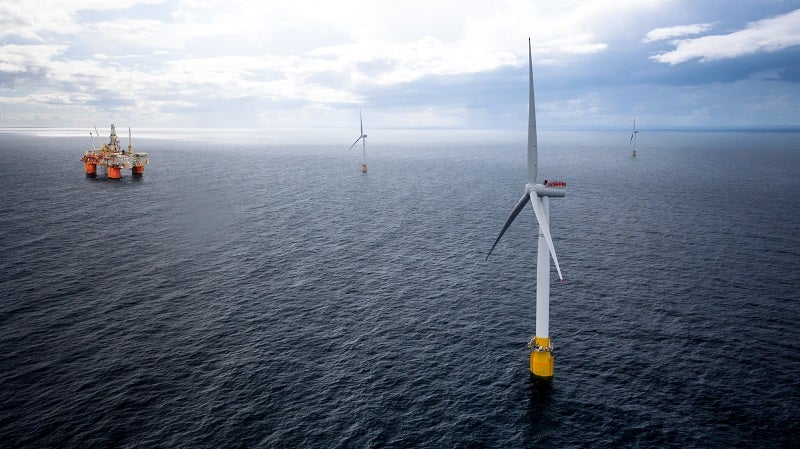 Norwegian energy company Equinor has announced that it will invest nearly $550m (NOK5bn) on the development of the Hywind Tampen floating offshore windfarm. The windfarm will be used to power operations at the Snorre and Gullfaks offshore oil platforms.
Hywind Tampen will be the first floating offshore windfarm to power operations at an oil and gas platform and will be located 140km from the shore.
It is formed of 11 8MW turbines supplied by Equinor, giving the windfarm a total capacity of 88MW. It will be able to supply 35% of the power demand of the two Snorre and three Gullfaks platforms. Equinor state that Hywind Tampen will be able to reduce CO2 emissions by more than 200,000 tonnes.
It is expected to come online in 2022, with a development and operation (PDO) handover event to take place at Equinor's Fornebu office in the presence of Norwegian Prime Minister Erna Solberg on 11 October.
Equinor CEO Eldar Sætre said: "We have been systematically maturing technologies for floating offshore wind for almost 20 years. The decision by the Snorre and Gullfaks partners helps bring this technology an important step forward.
"About 80 % of the global resource potential for offshore wind is in deep waters, and floating offshore wind may play an important part in the energy transition towards more sustainable global energy supply. This brings substantial opportunities for Norwegian industry."
Equinor's share price grew by nearly 1% from NOK168.15 ($18.48) to NOK169.80 ($18.67) on the Oslo Stock Exchange today, giving it a current market capitalisation value of over NOK561bn ($61.7bn).
Equinor share price in 2019
Snorre and Gullfaks
The Snorre project is an expansion project located 200km west of Florø in the Norwegian North Sea. Snorre began producing oil in 1992 and its field licence was recently extended to 2040 and is estimated to have 276 million standard cubic metres of oil.
Gullfaks began production in 1986 and its licence was also recently extended to 2036 and is expected to reach peak production of 31,000 barrels of oil per day this year.