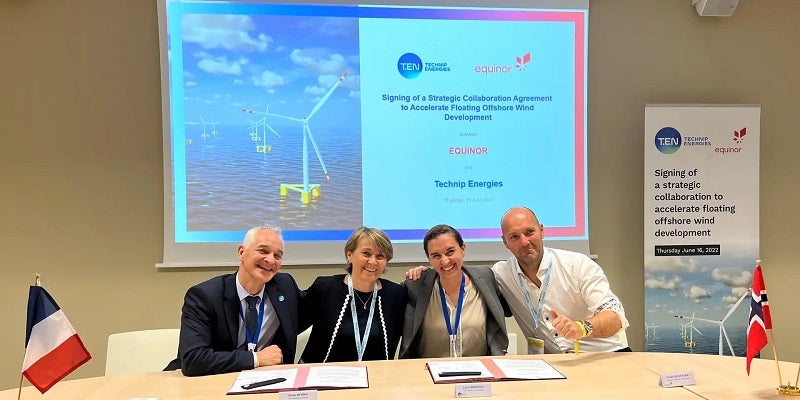 Norway-based petrol company Equinor and French energy firm Technip Energies have agreed to collaborate to develop floating wind steel semi-substructures.
The partnership aims to expedite the technology development for floating offshore wind projects, as well as reduce costs and develop local value opportunities.
The collaboration between Equinor and Technip Energies is part of the companies' plan to promote the industrialisation of floating offshore wind.
By partnering at the early design phase of a floating wind farm project, the companies intend to unlock value with their competencies in technology and fabrication.
Equinor Renewables Solutions senior vice-president Beate Myking said: "We're excited about our collaboration with Technip Energies, which allows us to further leverage and develop our floating toolbox to customise locally adapted industrial solutions for future floating offshore wind projects.
"We have already started to see early signs of value creation from this way of working in our early-phase floating wind projects in Southern Brittany in France and Firefly in South Korea."
Technip Energies Carbon-Free Solutions Business Line senior vice-president Laure Mandrou said: "We believe partnering is an essential step to reach net-zero.
"We are proud to enter this strategic partnership with Equinor, a long-lasting client with which we share a common vision and commitment: create a low-carbon future."
Based in Stavanger, Equinor claims to be the world's leading floating offshore wind developer and operator.
Earlier this month, the company partnered with BP to launch an offshore wind innovation hub in New York to promote partnerships with start-ups.
The hub will create a physical location for offshore wind programming and host workshops, educational programmes and curricula for the businesses.
The project is the result of a three-year partnership between the Urban Future Lab (UFL) at the New York Tandon School of Engineering, Equinor and the National Offshore Wind Research and Development (R&D) Consortium.