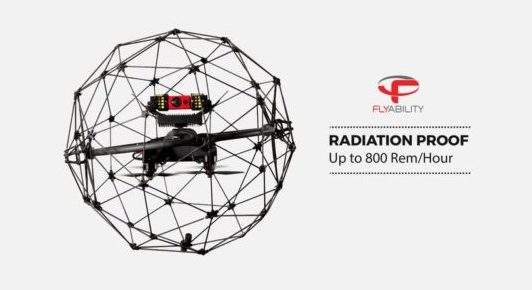 The Elios radiation drone, designed by Flyability, has successfully passed radiation exposure tests that confirm its efficacy in improving nuclear safety.
During the tests, which were carried out by Exelon Power Labs, Elios was exposed to increasing levels of radiation whilst in operation.
By the end of the final test, which saw the drone's exposure increase to 800 Rem/hour for ten minutes, the drone's optical camera and radio control were still operating at normal function.
After the series of radiation exposure tests, two functional checks were performed. This included the disarming and arming of the drone to discern whether it would continue to work normally following the high radiation dose.
The cumulative test sequences exposed Elios to more than 180 Rem/hour, a figure more than 90 times the annual dose limit for a single worker at a nuclear plant in the US and in France.
Exelon Power Labs coordinated the testing at one of Exelon's nuclear sites, which routinely tests equipment for nuclear plants.
Exelon Power Labs business development manager Colbey Ryan said: "By using drones and other forms of advanced technologies, nuclear plants can operate more efficiently, reliably and safely."
Currently deployed in the nuclear industry in five countries and supplied in more than 30% of US nuclear plants, Elios is used to improve safety by assessing areas that are potentially dangerous for workers to enter, such as radioactive zones.
The Elios drone is intended for use in dangerous and confined spaces for the purpose of inspecting power generation, oil and gas, mining, chemical and maritime infrastructures, though it could also be deployed for search and rescue purposes.
One of the most successful public uses of Elios was when a major US nuclear power plant sent a drone to examine a reactor for a suspected leakage, reducing inspection time from one and a half hours to just 15 minutes.
It also saved the firm a further six hours for the powering-down process, six hours for the power back up, and all costs associated with reduced output during evaluation of the reactor building.