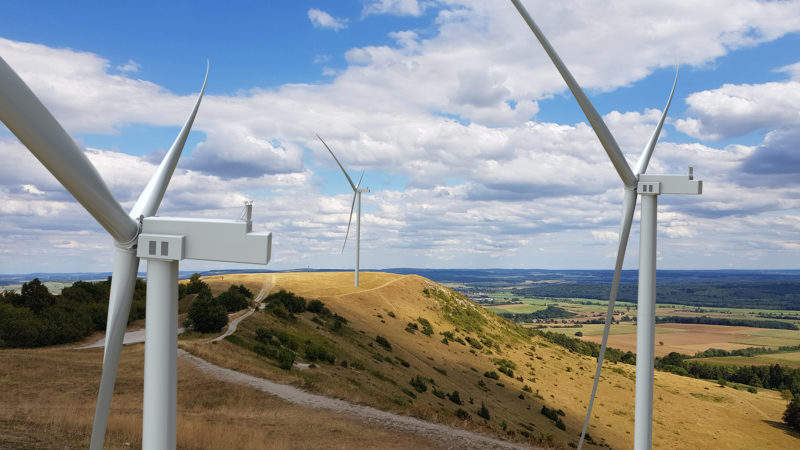 GE Renewable Energy has launched a new onshore wind turbine platform called Cypress, in addition to the next model for the platform, GE's 5.3-158 turbine.
The firm, which is a subdivision of General Electric, says Cypress advances GE's existing 2MW and 3MW fleets and will serve an installed base of almost 20GWh. It will also draw from the design of the 4.8-158 turbine model, which was brought into operation in 2017, as well as the firm's doubly-fed induction generator.
The latest turbine offers a 50% increase in annual energy production (AEP) over the life of the platform compared to the 3MW turbines, as well as greater efficiency in serviceability, improved logistics and siting potential, and greater cost benefit for customers.
The turbine can provide enough power to service 5,200 European residential homes.
A 4.8-158 turbine will also be included in the Cypress platform, and a new two-piece blade design with longer blades will be deployed. Longer blades tend to improve AEP and help to drive down the levelised cost of electricity (LCOE).
The carbon blades were developed by the partnership of GE's Onshore Wind business, GE's Global Research Center, and GE'S LM Wind Power. The prototype Cypress 4.8-158 turbine is currently under production at GE's facility in Salzbergen, Germany, and is expected to be commissioned by the end of this year.
Turbines will be constructed on site, reducing transport and other logistical costs, and allowing construction to take place in previously inaccessible sites.
GE Onshore Wind CEO Pete McCabe said: "Our mission is to enable our customers to set the pace for lowering the LCOE around the world, as their needs continue to evolve.
"The Cypress platform builds on our track record of success and positions our technology for scalability and flexibility for the coming years."
Cypress is the second major technology platform launched by GE this year, having opened its Haliade-X offshore turbine platform in March.
The Haliade-X platform includes the most powerful offshore wind turbines designed to date, with a capacity of 12MW, featuring 220 meter rotors and 107m blades. These turbines are capable of producing 67GWh per year, enough to power 16,000 European households, according to wind conditions on a typical German North Sea site.