Germany and Norway commission NordLink power cable
At 623km, NordLink is considered be the longest subsea electrical interconnector in the world.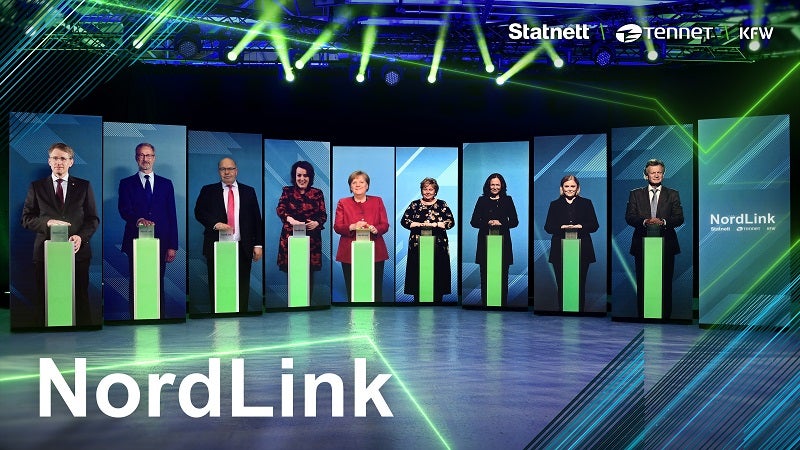 Germany and Norway have officially commissioned NordLink, a 623km long high-voltage direct-current (HVDC) transmission system that will provide clean energy to Europe's largest economy.
Norway's power production is mostly based on hydropower. Because of the country's large reservoirs, it can control its renewable energy generation while also helping to offset shortfalls in continuous supply from renewable energy power plants of Germany.
The NordLink cable is also expected to help Norway become a green energy hub.
By jointly pressing a 'digital button', German Chancellor Angela Merkel and Norwegian Prime Minister Erna Solberg commissioned NordLink on 27 May.
Chancellor Merkel said: "With NordLink, Germany and Norway are moving even closer together.

"The first direct electricity bridge not only helps to stabilise energy prices in both countries, [but] NordLink is a milestone for sustainable energy supply and climate protection in Europe, because the focus is on exchanging renewable energy."
Prime Minister Solberg said: "NordLink will be of great benefit to both Germany and Norway.
"It will contribute to a more efficient use of power resources and lay the foundations for further investments in renewable production. It will also contribute to our joint efforts in lowering emissions.
"As Germany is phasing out coal power, NordLink will ease the transition from fossil to renewable power production. At the same time, it will provide access to energy when Norway needs it."
The €1.8bn ($2.2bn) NordLink project was completed by a consortium of Norwegian transmission system operator Statnett and DC Nordseekabel.  These two entities each hold a 50% stake in the consortium.
Transmission system operator TenneT and KfW each hold a 50% stake in DC Nordseekabel.
At 623km, NordLink is claimed to be the world's longest subsea electrical interconnector. The system comes with a capacity of 1,400MW, enough to power 3.6 million households in Germany with renewable energy.
NordLink cables are connected to converter stations located at Wilster (Schleswig-Holstein) and Tonstad (southern Norway).
The two stations have been designed to convert the electricity from direct current (DC) to alternating current (AC) or vice versa.
Converted power is fed into the German and Norwegian AC transmission grids, which is later supplied to households and businesses.
Norway is currently connected to the Netherlands through the 700MW NordNed subsea interconnector. The country is connected to Denmark via the Skagerrak connection, which features four cables and a 1,700MW capacity.
Statnett and the UK's National Grid are set to complete the first direct link 1,400MW North Sea Link cable later this year.