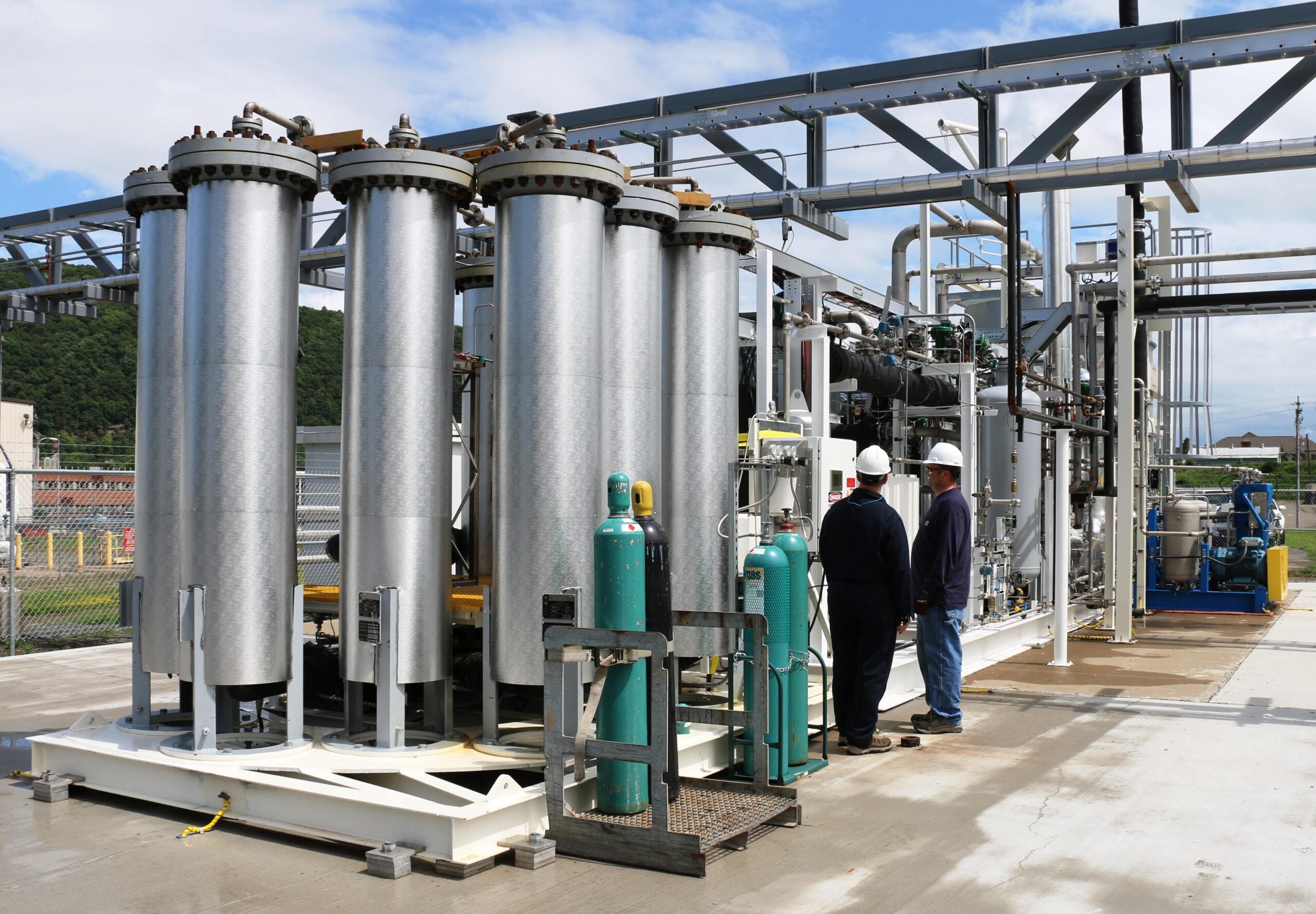 US industrial gas and chemical business Air Products has announced a $5bn joint investment in a chemical production plant in Saudi Arabia powered by 4GW of renewable energy. The company will form a joint venture with Saudi generator ACWA Power and tech accelerator city Neom to jointly fund a power-to-hydrogen-to-ammonia facility.
German engineering company ThyssenKrupp and Danish catalysis specialists Haldor Topsoe will supply equipment for the large-scale ammonia process.
The plant will use solar and wind power to produce hydrogen from water and nitrogen from air. The plant will combine these to create 1.2 million tons of ammonia every year. Ammonia can be transported more easily than hydrogen, and can be used to reproduce hydrogen at its destination. Ammonia is also a key chemical used in fertilisers, cleaning products, and other chemicals.
Air Products CEO and president Seifi Ghasemi explained in a conference call: "Ammonia right now is only a means of transporting the hydrogen. We are not selling ammonia. We are transporting ammonia to sell hydrogen to the world."
In future, the company will invest $2bn in distribution infrastructure. This will involve specially built units at bus and truck depots to turn the ammonia back into hydrogen. Waste nitrogen could then be released into the air, though avoiding accidental nitrogen oxide pollution poses design challenges.
Air Products will build and operate the ammonia plant as part of the Neom city project. This technology hub in the far northwest of Saudi Arabia aims to attract foreign investors to the area. As part of this, it will use a different legal and tax system to the rest of the country. However, native tribes currently living in the area have faced violence from Saudi forces looking to clear the area.
Saudi Crown Prince Muhammad bin Salman announced the construction of the city in 2017. Construction of the first phase will complete in 2025. Ghasemi said this was "absolutely the right location" because of its consistent windiness. This should allow wind turbines to generate continuously, keeping night time generation at 70% of the daytime power flow.
Air Products will jointly own the plant with the Neom project and ACWA Power. It plans to commission the plant in 2025.
Why is Air Products investigating green ammonia instead of hydrogen?
In a conference call, Ghasemi said: "The issue has always been; how can you take hydrogen as a gas, or even if you liquefy it, and put it into a truck or a bus in Frankfurt or in Tokyo? The innovation we have come up with here is to take the hydrogen gas, make ammonia with it, and use this 'green' ammonia to easily and commercially ship it around the world with available technology and ships."
The ammonia is termed "green" due to being manufactured using electrolysis of water and sustainable electricity. Ghasemi says this guarantee is what makes a single, large scale plant preferable to smaller ones. He believes manufacturing closer to the point of use will mean using grid power and therefore incorporate fossil fuel pollution.
As an example, he explained: "If you electrolyse water in China, most of the electricity comes from coal. You generate 50kg of CO₂ per kilogram of hydrogen. That defeats the whole purpose. You cannot call that green hydrogen; you cannot even call it renewable."
Executives view of the deal
ACWA Power will manage the energy generation at the plant, while Air Products will use ThyssenKrupp's technology for the manufacture of hydrogen. Air Products will build the air separation unit for producing nitrogen and will collaborate with Haldor Topsoe on the ammonia production unit. Haldor Topsoe specialises in chemical manufacture and recently announced a wide-ranging deal with Air Products covering several processes.
ACWA Power Chairman Mohammad A Abunayyan said: "ACWA Power has a proven track record of leveraging pioneering renewable technologies to deliver carbon-free power at the lowest cost. With our global experience, we are confident that our collaboration with an industry-leading company like Air Products will create significant opportunities in the production of green hydrogen, and further us in our goal to help countries meet their clean energy targets and unlock significant socio-economic benefits."