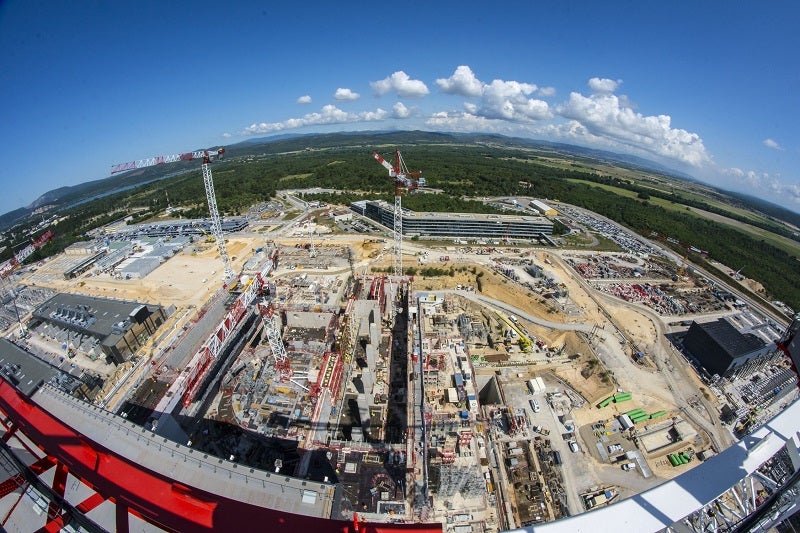 The International Atomic Energy Agency (IAEA) and the ITER International Fusion Energy Organisation have agreed to co-operate on nuclear fusion research, with the goal of making fusion energy production possible on an industrial scale.
Under the Practical Arrangements agreement, ITER will share its findings on nuclear fusion safety and radiation protection with all 171 members of the IAEA to shape the potential development of the IAEA's safety standards on nuclear fusion. The two groups will also work together to establish educational initiatives on plasma physics and fusion engineering.
The agreement strengthens the collaboration between the two groups that had been established in 2008 and was signed by IAEA assistant director-general Cornel Feruță in Vienna and ITER director general Bernard Bigot in St. Paul-lez-Durance, France.
The ITER nuclear fusion project, formerly the International Thermonuclear Experimental Reactor, in Southern France is the largest fusion experiment in the world, with 35 nations currently collaborating to build a Tokamak, a project to demonstrate the feasibility of fusion power.
Comment on nuclear fusion collaboration 
IAEA director general Yukiya Amano said: "The challenge to achieve the goal of fusion power production can only be met through concerted international efforts. ITER's impressive work plays a central role in this field. We look forward to our intensified collaboration."
Bigot also said: "The IAEA hosts a wide range of initiatives in fusion and is the key international organization in fostering global research in this area. Our Practical Arrangements deepen the long tradition of cooperation between our organisations."
Nuclear Industry Association chief executive Tom Greatrex commented: "Nuclear by its nature is an international industry, and this strengthening agreement recognises that.
"Fusion is part of the future for nuclear, and with construction at ITER well underway, we are one step closer to making it a reality."
A World Nuclear Association spokesperson added: "We fully support the IAEA and ITER's collaboration on nuclear fusion research, with the objective of developing nuclear fusion as another way of helping to meet the world's future energy needs in the second half of the 21st century alongside today's proven nuclear technologies."