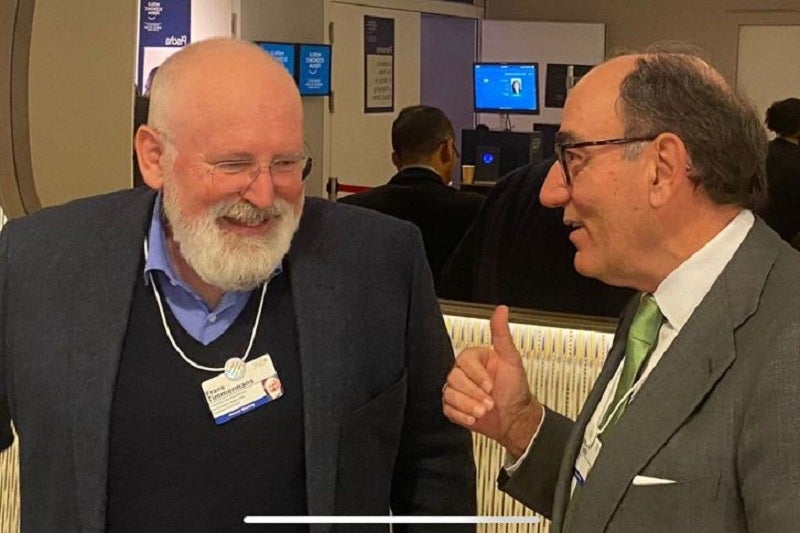 Spanish energy utility Iberdrola has committed to investing €3bn ($3.2bn) in green hydrogen as part of its efforts to expedite the European Green Deal.
Initially agreed on in 2020, the European Green Deal calls for a 55% reduction in greenhouse gas emissions by 2030 and to make Europe climate-neutral by 2050.
Iberdrola chairman Ignacio Galán announced the investment plan at the World Economic Forum in Davos, Switzerland, this week.
Galán called for a stable European framework to boost investment in the technology and said that green hydrogen will 'bring enormous industrial opportunities to energy uses that are difficult to electrify'.
He added that, similar to other green technologies, a stable regulatory framework would be required to attract investment in green hydrogen.
Galán said coordinated action by European Union (EU) member states would be needed to meet the European Green Deal's 'ambitious' targets, which include multiplying green hydrogen production capacity by 2,000 times.
He noted that the members of the CEO Action Group for the European Green Deal are prepared to work with policymakers to support Europe's green transformation.
Iberdrola has not, however, specified the timeframe for its €3bn investment.
The announcement comes after the company opened its green hydrogen plant in Puertollano, Spain, earlier this month.
The plant is claimed to be one of the largest of its kind for industrial use in Europe, as well as the largest operational plant in the world.
It can produce up to 3,000t of renewable hydrogen a year.
Iberdrola recently began construction of its Korytnica II wind farm in Poland, located north-east of Warsaw.
The 50.5MW facility will increase the company's onshore wind power capacity in the country to 163MW.
It will generate enough clean energy to meet the power requirements of 40,000 Polish households.