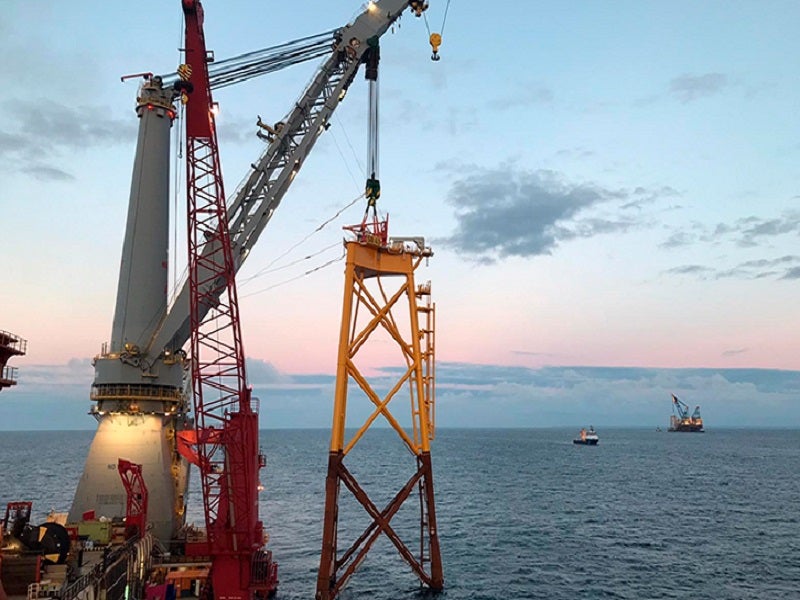 Spanish energy company Iberdrola has finished the first phase of construction works at its 500MW Saint-Brieuc offshore wind farm in France.
The company has installed 65% of the facility's piles and 40% of its offshore wind platforms as part of the first phase.
Iberdrola said that the piles and offshore wind platforms were manufactured by Windar in Avilés and Navantia in Fene.
A total of 124 piles have also been installed to anchor a substation and 40 of the 62 wind turbines to the seabed.
The three-legged offshore wind platforms will support the turbines, which will be installed onto them.
In a statement, Iberdrola said: "During the month of January, the project will continue with the installation of cabling between wind turbines, depending on weather conditions.
"In mid-January 2023, work is scheduled to begin on laying the wind farm's interconnection cable.
"A total of 90km of 66kV high-voltage alternating current interconnection cables will be commissioned.
"The drilling and pile installation work will be resumed in the first quarter, when the anchoring of the remaining 66 piles will be undertaken.
"Thus, in the second half of the year, the offshore wind platforms will be put back into place and the assembly of the wind turbines will begin."
Located 16km from the French coast, the Saint-Brieuc wind farm will be the Iberdrola Group's first large offshore wind farm in France.
The wind farm is being built with an investment of nearly €2.5bn ($2.64bn) and is expected to come online later this year.
Once operational, it will have the capacity to meet the energy needs of 835,000 people.
Iberdrola plans to invest €4bn in France by 2025, with most of this being used to fund renewable projects.
The company currently operates a 'significant' project portfolio across Germany, Japan, Sweden, Ireland, Poland, Taiwan and the Philippines, the US and the UK.