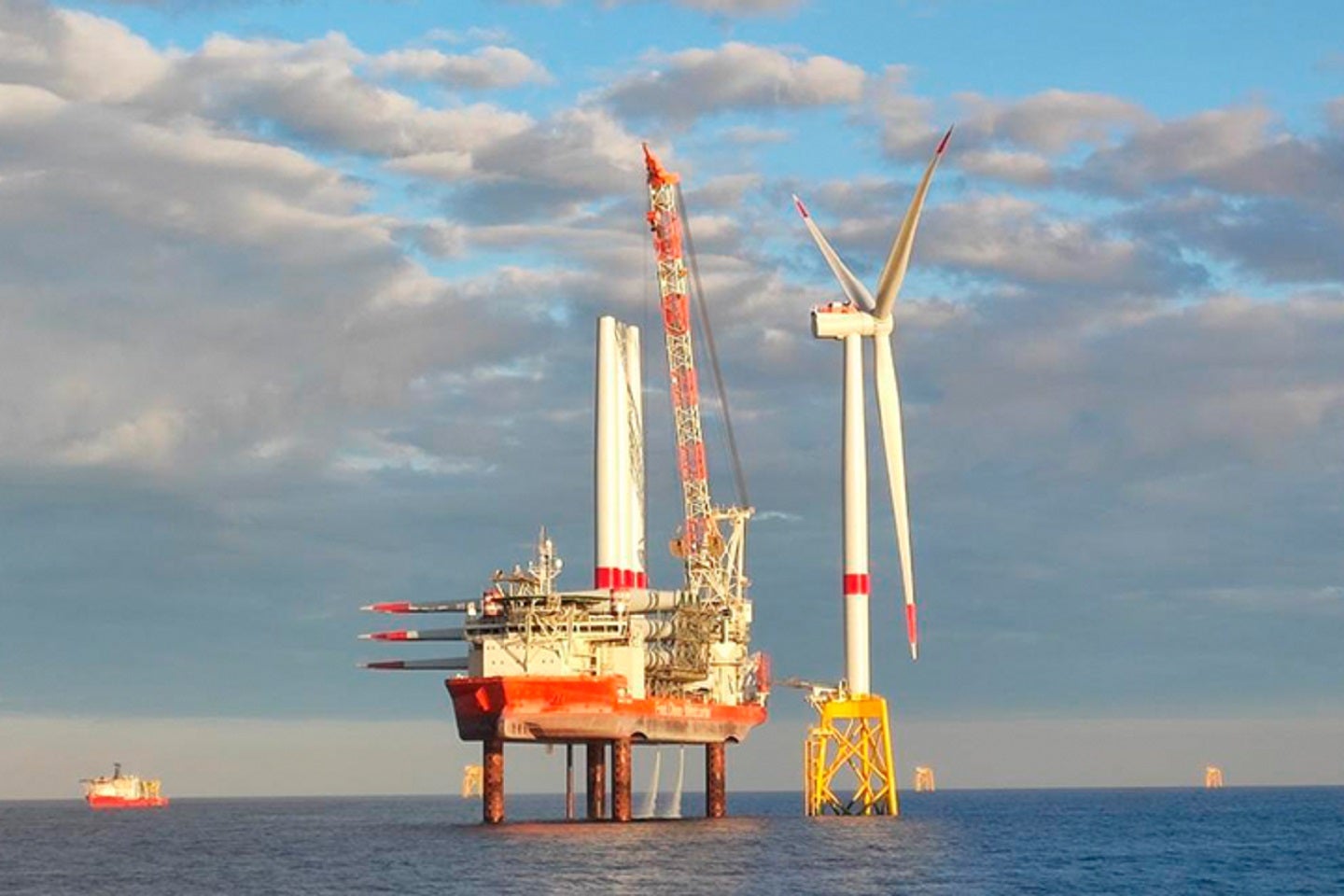 Iberdrola, the developer of the 496MW Saint-Brieuc French offshore wind farm, has announced the deployment of the first wind turbine at the project site.  
Spanish wind turbine maker Siemens Gamesa completed the installation with assistance from Norwegian offshore services provider Fred Olsen Windcarrier.
The installation was performed by Fred Olsen's jack-up vessel, Brave Tern, which began its journey from the port of Le Havre in northern France where the construction and assembly of the turbines take place to the project's location, 16km off the coast of Brittany.
A total of 62 Siemens Gamesa 8MW turbines will be deployed. These turbines will be assembled and installed line-by-line, then gradually commissioned.
The 90m tall turbine blades have a rotor diameter of 167m. The blades will reach a maximum height of 209m above sea level.
Brave Tern is expected to make several journeys from the port in the coming months, undertaking deliveries.
Towers for the 62 wind turbines were previously supplied by Spanish company Haizea Wind.
Iberdrola France managing director Emmanuel Rollin stated: "The successful installation of the first offshore wind turbine at the Saint-Brieuc wind farm represents a great milestone for Brittany and for the project. It means that we are entering the final stretch of the project, which will lead to the massive production of renewable and carbon-free energy for Bretons.
"After more than a decade of efforts and commitment from the Brittany region, local stakeholders and Iberdrola teams, this first wind turbine manufactured in Le Havre and equipped in Brest is also the culmination of a great industrial adventure of which we can all be very proud."
The Saint-Brieuc wind farm will generate 1.8TWh of clean energy annually and serve 835,000 people.
Iberdrola is constructing the wind farm with an estimated budget of €2.4bn.