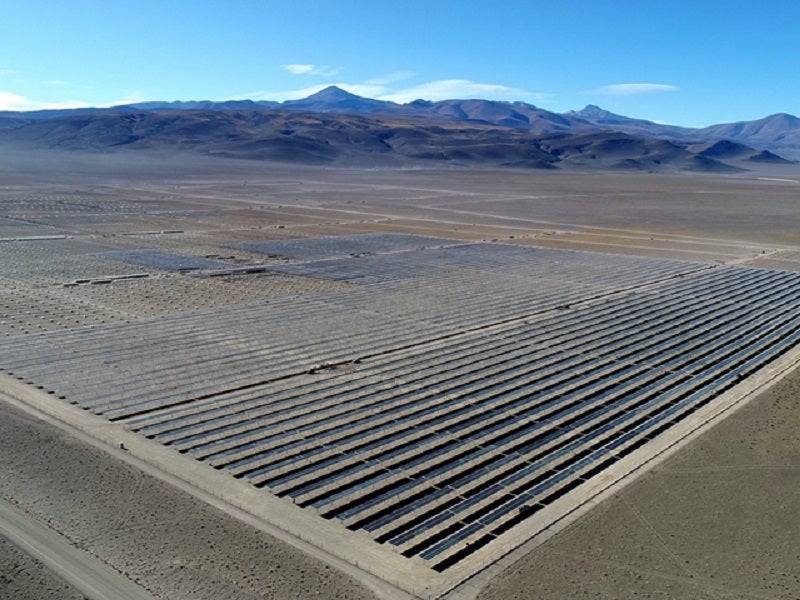 Chinese solar manufacturer LONGi has supplied 208MW of Hi-MO 3 mono modules to French renewable energy producer Neoen for the Altiplano 200 solar plant in Argentina.
Constructed by Engineering, Procurement, Construction (EPC) companies Gensun and TSK, the plant is located at an altitude of 4000m and is a combination of the La Puna (107MW) and Altiplano (101MW) projects.
The project involved an investment of $234m and was connected to the grid on 19 December last year. During the construction period, the Altiplano 200 plant created 450 local jobs.
LONGi Solar EMEA sales director Nick Wang said: "The Altiplano 200 solar plant, located in a high-altitude region with high irradiation, requires high-quality modules and LONGi was selected as the sole module supplier to the project.
"This shows a strong recognition and trust for LONGi's solar products from our partner Neoen. LONGi is willing to cooperate with global customers to create more solar power stations to provide more clean energy to the local citizens in South America."
The electricity generated by the plant will be sold to Argentinian power grid operator CAMMESA for a period of 20 years, as part of a power purchase agreement.
LONGi, which has collaborated with Neoen since 2018,  has also worked with the company on the construction of two ground-mounted solar power plants in Mexico and Argentina with a total capacity of 400MW.
During the construction process of the Altiplano 200 plant, LONGi completed module delivery work in accordance with the agreement and the agreed delivery date.
In a separate development, LONGi has signed a contract with Atlas Renewable Energy to supply 122MW of Hi-MO4 bifacial modules for one of its projects located in Chile.
According to LONGi, compared to monofacial panels, bifacial modules can have a 7-25% gain in terms of power generation.
The company introduced the Hi-MO4 bifacial module, based on the new M6 silicon wafers, in May last year.
Last December, the company signed an agreement to supply up to 1.2GW of its new Hi MO4 modules to Indian photovoltaic power station developer Adani Green Energy.