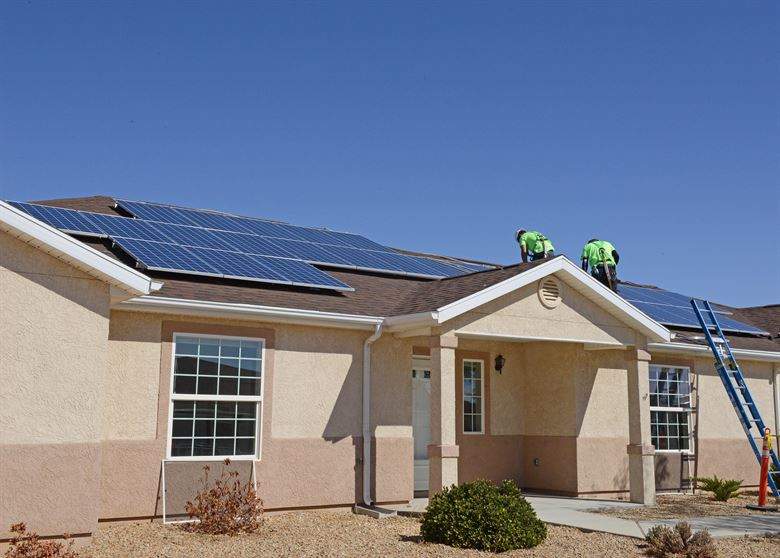 A recent poll has found that more than 70% of the UK public would install renewable home technologies such as solar panels and home batteries if the government offered more assistance.
The survey was conducted by YouGov and commissioned by environmental law group ClientEarth.
Although many of those who took part in the survey said they had already made moves to make their homes more energy efficient, 62% said they would like to install solar devices, while 60% said they would buy energy storage devices such as those sold by Tesla.
Participants opposed the Big Six energy firms' market dominance with 68% saying smaller clean energy companies needed more space to grow.
Exactly half of those surveyed said they would move their pensions to avoid fossil fuel investments. This number climbed to 59% for 18-34-year-olds.
A total of 71% said they would join a local energy scheme, such as a community windfarm or solar panel collective.
The popularity of community-based, domestic energy sources runs counter to the government's current approach to energy production, which involves large-scale and remote power generation sites such as offshore windfarms and nuclear plants.
Current government support for domestic or local projects is almost non-existent. Local projects have petered off as a result of government subsidy cuts and tax changes. In addition, the feed-in tariff (FIT) incentive for domestic solar tech is set to expire in 2019, with no plans for a replacement.
Since its launch in 2010, FIT has encouraged more than 800,000 households to install solar panels, and since it began the cost of solar installation has more than halved, dropping to £6,000.
A 2018 State of the Sector report from Community Energy England concluded that communities need clearer government and local authority strategies if localised energy projects are to be successful.
ClientEarth CEO  James Thornton said: "Government policy is plainly at odds with public sentiment – and its own ambition to tackle climate change – as far as our energy sources are concerned.
"People want to know more and take ownership of how they get their energy – that's clearly demonstrated by the broad support in the poll for household solar and community energy schemes."
The survey ranked solar as the most popular of all energy sources, while coal was the worst followed by gas.
Simon Daniel, Founder and CEO of Moixa, the UK's leading home battery company, told Power Technology: "This study shows that consumers are excited about solar, storage and any technologies that can help them cut both their bills and their carbon footprint.
"The government's FIT scheme has been super useful but is no longer needed as solar is much more affordable. And today, smart batteries can help consumers make the most of their rooftop solar, by reducing their evening energy bills and providing access to emerging grid incomes."
Although the price of solar panels has fallen significantly over the past few years, large-scale renewable energy projects in the UK have stalled. Trade body Solar Power Europe revealed in June that the number of new solar power installations in Britain has halved for the second year in a row.