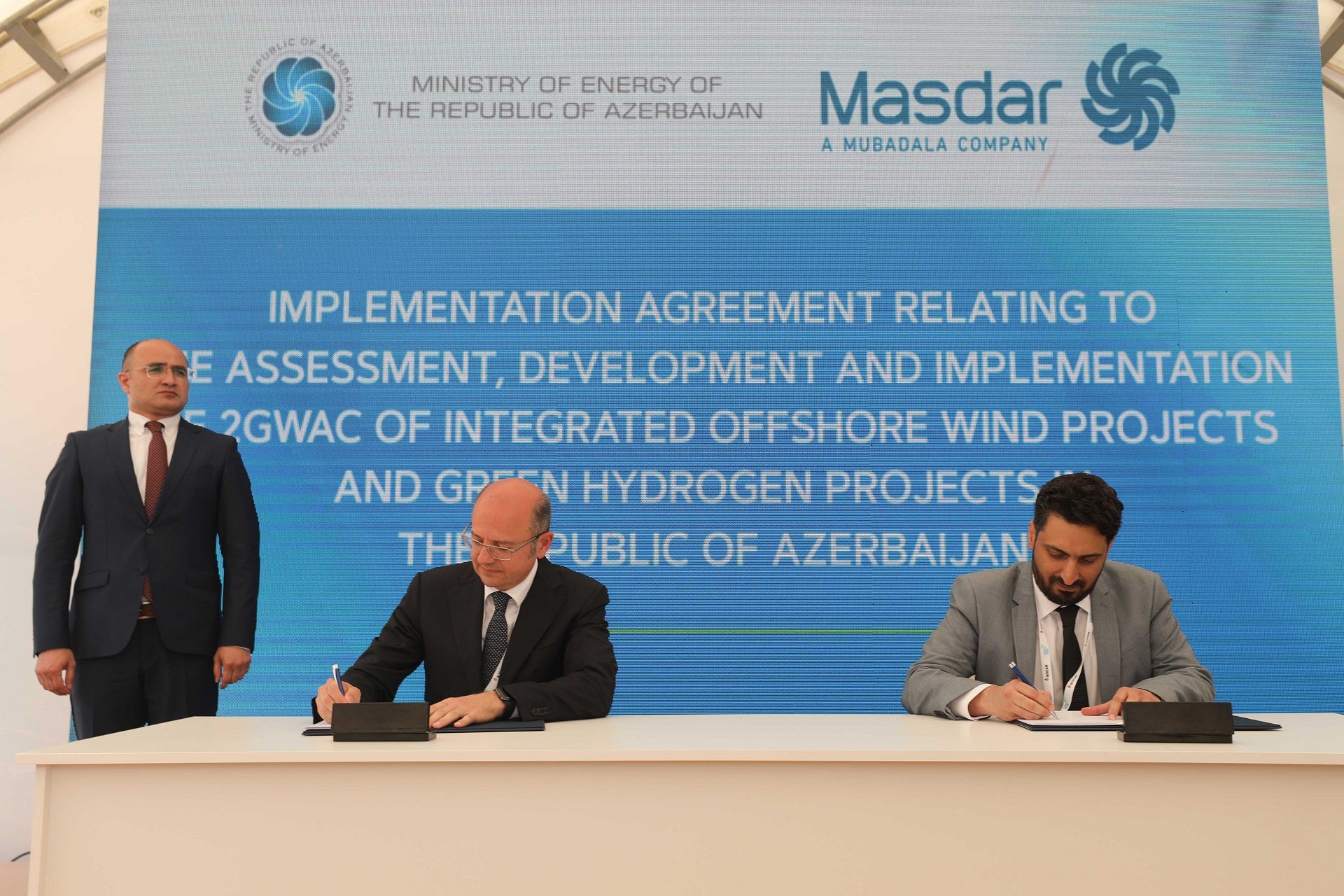 Emirati state-owned renewable energy firm Masdar has signed two agreements to develop 4GW worth of clean and renewable energy projects in Azerbaijan.
The company's deals with Azerbaijan's Ministry of Energy include the potential to develop an additional 6GW in a second phase, raising the projects' total production capacity to 10GW.
Under the first implementation agreement, Masdar will build 1GW of onshore wind capacity and 1GW of solar photovoltaic capacity in Azerbaijan.
The second deal covers the development of integrated offshore wind and green hydrogen projects with a total capacity of 2GW.
Masdar chairman and Emirati Advanced Technology and Industry Minister Dr Sultan Ahmed Al Jaber said: "These clean energy projects also demonstrate the valuable economic opportunities of the energy transition and will contribute to the energy diversification and energy security of Azerbaijan.
"Today's announcement also underscores the UAE and Masdar's position as a global leader in renewable energy, as we progress our strategy toward a portfolio of at least 100GW globally."
Masdar noted that the first agreement includes measures to 'study and strengthen' the network and implement processes for the export of electricity.
The second deal requires the company to create wind power for production and export purposes, decarbonisation, hydrogen production and exportation.
At the same time, Masdar and the State Oil Company of Azerbaijan Republic (SOCAR) have signed an agreement to jointly develop renewable energy sources.
Masdar expects to increase its renewable capacity to more than 50GW by 2030.
Earlier this month, reports emerged that Masdar and Egypt's Infinity Energy as a consortium were planning to acquire a significant stake in Lekela Power from private equity firm Actis.
In April this year, Masdar and the Kyrgyz Republic's Ministry of Energy signed a memorandum of understanding (MoU) to explore up to 1GW worth of renewable energy opportunities in Kyrgyzstan.