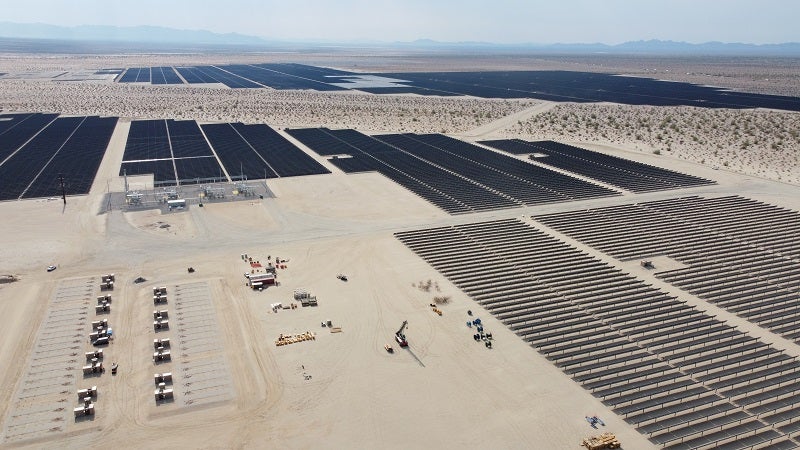 Germany-based asset management company MEAG, acting on behalf of Munich Re, has entered a strategic partnership with EDF Renewables North America to acquire a 50% stake in two renewable projects in California, US.
The projects included in the deal are the Maverick VI solar-plus-storage project and the Maverick VII solar project.
Maverick VI includes a 131MWdc solar project and a 50MW/200MWh battery energy storage system, while Maverick VII has 179MWdc of capacity.
Both projects are located next to one another in Riverside County on federal lands, within a solar energy zone and development focus area. The area is managed by the US Bureau of Land Management.
The projects are currently in the development stage and are scheduled to come online in December.
Once operational, the two facilities will have the capacity to generate enough clean energy to power 116,500 average California homes and offset more than 527,000mt of carbon emissions a year.
EDF Renewables Divestiture and Portfolio Strategy vice-president Nate McMurry said: "We are very pleased to announce this strategic partnership with MEAG, which shares EDF Renewables' long-term investment focus and commitment to decarbonisation.
"Securing the volume of capital investment required to successfully address climate change is one of the 21st century's critical challenges.
"Partnerships between developers of high-quality renewable energy projects and major institutional investors like MEAG are an important avenue to accelerate the growth of clean energy."
The deal is expected to close in the first quarter of next year subject to customary regulatory approvals.
Macquarie Capital acted as exclusive financial advisors for the transaction.
MEAG currently manages wind and solar assets with more than 1GW of total capacity in the US and Europe.
The company plans to increase its investments in the US's renewable energy sector over the coming years.