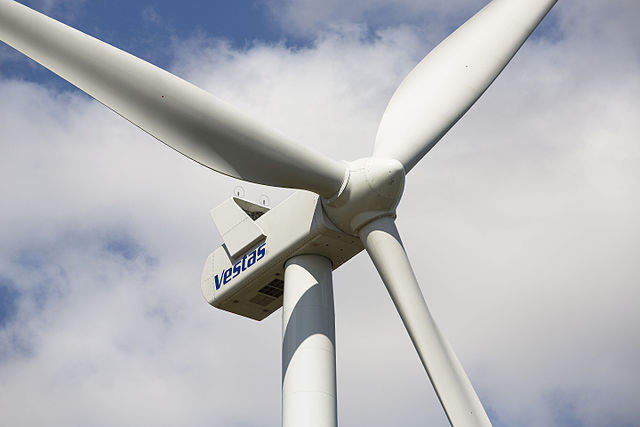 Danish turbine manufacturer MHI Vestas Offshore Wind has announced the launch of its 10 MW wind turbine in what that company has dubbed a 'major milestone' for the energy industry.
The new V164-10.0 MW turbine, which was launched on Tuesday at the Global Wind Summit in Hamburg, is the largest turbine in the world, boasting a rotor diameter of 162 m and 80 m blades, each of which weighs 35 tonnes. The swept area of the turbine will total 21,124 m², and its full height from base to tip will be around 187 m
MHI Vestas said the model will enter commercial installations by 2021.
MHI Vestas CEO Philippe Kavafyan said in a statement on Tuesday:  "What was unreachable before has become the new benchmark,
"In launching the V164-10.0 MW… MHI Vestas is proud to contribute this major milestone to the offshore wind industry."
A single turbine is capable of providing power to 5,977 German homes. The technology was designed to operate in locations with wind speeds of 10 m/s with an estimated life of 25 years.
Vestas chief technology officer Torben Hvid Larsen said: "The V164-10.0 MW turbine is the best proof point yet that we do not accept the limitations of conventional thinking and that we think beyond ourselves,
"We have embraced the challenge of transforming what is possible in our field."
The new design is only the latest in a series of developments in the wind sector, which is steadily cementing its position as one of the most efficient and promising energy sources. According to the International Energy Agency, wind is set to become the EU's largest power source by 2027, surpassing earlier predictions that wind power will reach the top spot by 2030.
Established in 2014, MHI Vestas is a joint venture between Vestas Wind Systems and Mitsubishi Heavy Industry set up with the intention of developing the design, manufacture, installation and servicing of turbines for the offshore wind sector.
The firm has been leading the way in terms of turbine design, already owning the world's most powerful commercially-viable wind turbine thanks to its V164-9.5 MW design which passed its final certifications in June, and is anticipated for installation at the end of next year.
GE Renewable Energy is also set to bring a giant turbine into production, with its 12 MW Haliade-X due to be installed for demonstration next year, at which point it will be the world's largest offshore turbine.