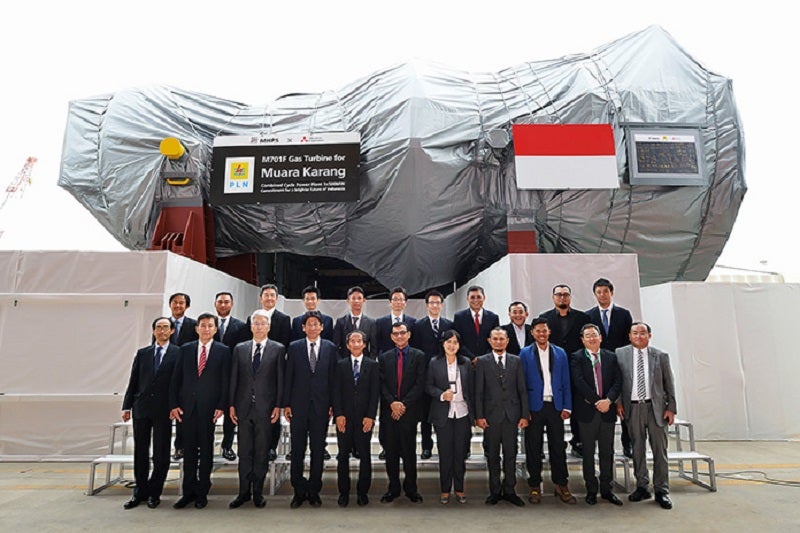 Mitsubishi Hitachi Power Systems (MHPS) has delivered the M701F gas turbine to Indonesian state-owned electricity provider PT PLN (Persero).
The turbine forms the core of the 500MW natural-gas-fired gas turbine combined cycle (GTCC) power generation system in Indonesia. It was manufactured at MHPS' Takasago Works in Hyogo Prefecture, Japan.
Located at the Muara Karang power plant in western Java, the start-up of the GTCC system is expected in December 2019 while completion and inauguration of the new system is planned for October 2020.
The full-turnkey order was jointly received by Mitsubishi Corporation and Indonesian civil construction firm PT Wijaya Karya (Persero) (WIKA).
For this project, Mitsubishi Electric is responsible for the system's generator and WIKA is in charge of civil construction and installation work. Civil construction works are currently underway having started in August 2018.
MHPS will supply a steam turbine and auxiliary equipment for the project. It will support the maintenance and management of the GTCC system via remote monitoring under a long-term service agreement (LTSA). The company will also deploy a full-time engineer at the site after the start-up of operations.
The Muara Karang project is one of the several plans launched by the Indonesian Government to increase the supply capacity to 35GW to meet the country's increasing power demand.
MHPS is a joint venture formed between Mitsubishi Heavy Industries and Hitachi in February 2014.