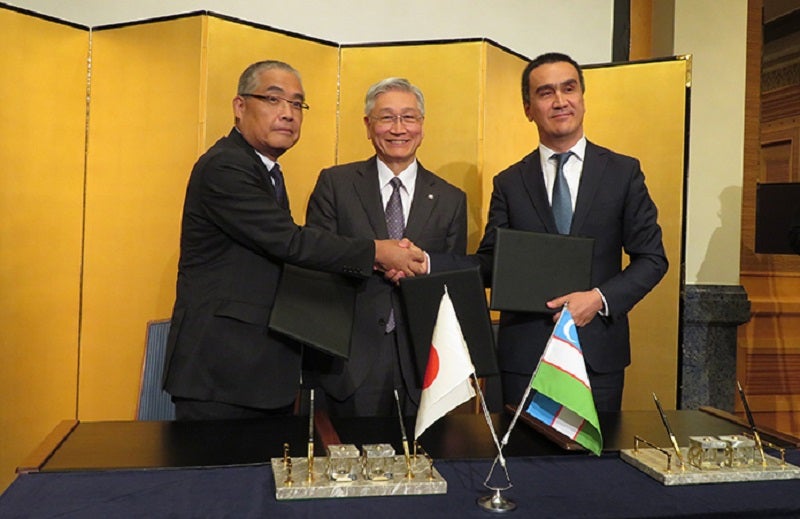 M itsubishi Hitachi Power Systems (M HPS) has signed a memorandum of understanding (M oU) covering the operation and maintenance (O&M ) of thermal power plants in Uzbekistan.
The M oU was signed along with the M inistry of Energy of the Republic of Uzbekistan and M itsubishi Corporation to fast-track discussion of a Comprehensive Service and M aintenance Program (CSM P).
The agreement was reached at the 15th round of the Uzbek-Japanese Economic Cooperation Forum. It further strengthens the M oU signed by the parties at the 14th round of discussions in October 2018.
The CSM P, which has been incorporated in the new M oU, intends to improve O&M technologies. The programme applies to the three power plants, the Navoi plant, operated by Thermal Power Plants of Uzbekistan, and Navoi-2 and Turakurgan, both of which are currently under construction.
M HPS will provide parts for the gas turbines and train engineers from Thermal Power Plants of Uzbekistan in O&M . M HPS will also assign engineers to conduct regular inspections at the sites.
The state-operated power provider Thermal Power Plants of Uzbekistan has a total power generation capacity of 12,100M W and meets almost 100% of Uzbekistan's power requirements through three core fuel sources including coal, petroleum and natural gas.
M HPS has previously supplied equipment for the Navoi plant. In November 2018, the parties signed an M oU with Thermal Power Plants of Uzbekistan (formerly known as the State Joint Stock Company Uzbekenergo).
This agreement on collaboration in power plant maintenance support expanded and strengthened O&M agreement concluded in 2015.