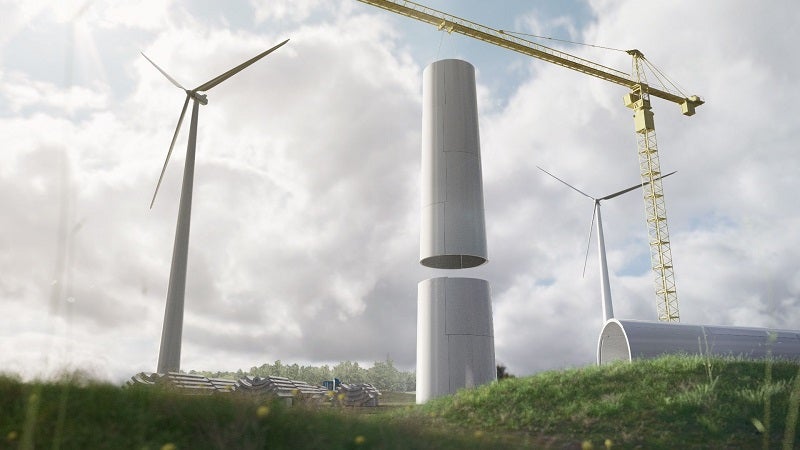 Swedish engineering and industrial design company Modvion has secured an EU grant for the development of commercial wooden wind turbine tower.
The company has claimed SEK69m ($7.3m) of funds under the EU EIC Accelerator programme.
Modvion CEO Otto Lundman said: "This support from the EU is clear proof of the enormous potential of wooden wind turbine towers and it will help us develop as a company at an even faster pace. We are now one step closer to being able to offer commercial, climate-neutral wind turbine towers."
In a statement the company said the EU grant will be used to build a development facility in the Gothenburg area, where it will build the first tower with 100m height on a commercial scale for Varberg Energi.
It also said it has signed declarations of intent with Rabbalshede Kraft for ten towers, each with at least 150m in height.
Lundman further added: "That we are one of the few companies to receive grants in such fierce competition is a seal of quality.
"This financing creates security for us, our partners and potential investors. We can now focus on increasing the workforce, building a new development facility and constructing the first full-scale wooden wind turbine tower.
"We are seeing an enormous demand for our wooden wind turbine towers. Laminated wood is stronger than steel at the same weight and by building modularly, wind turbines can be made both higher and at a lower cost. Building in wood also radically reduces carbon dioxide emissions, allowing us to offer climate-neutral wind energy."
In April, Modvion installed its first wooden tower on the island of Björkö outside Gothenburg, which was ordered by the Swedish Wind Power Technology Centre at Chalmers University of Technology.