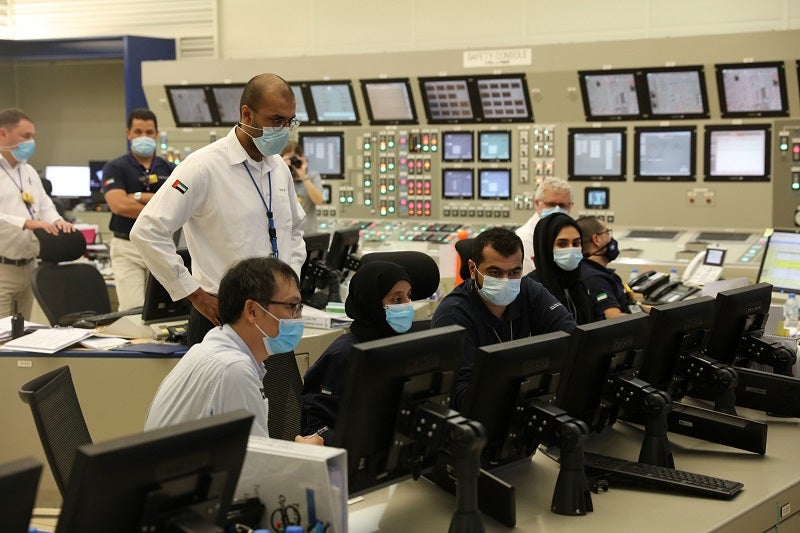 Nawah Energy Company has connected Unit 1 of the Barakah Nuclear Energy Plant to the UAE's national grid for the first time.
Emirates Nuclear Energy (ENEC), owners of nawah Energy Company, said in a statement that the grid is now dispatching its first electricity to the UAE's electricity transmission network.
ENEC CEO Mohamed Ibrahim Al Hammadi said: "The safe and successful connection of Unit 1 to the UAE grid marks the key moment when we begin to deliver on our mission to power the growth of the Nation by supplying clean electricity, around the clock.
"Grid connection of Unit 1 really is the beginning of a new era in our project, which is built upon years of preparation and adherence to the highest international safety and quality standards.
"We are confident in our people and our technology to continue to progress to reach commercial operations, and the completion of the remaining three units, with the goal to power up to 25% of the UAE's electricity needs for at least the next 60 years."
With the competition of grid integration, Unit 1's nuclear operators will now focus on the process to gradually increase power levels, known as power ascension testing.
This testing will be overseen by the UAE's independent nuclear regulator as well as the International Atomic Energy Agency (IAEA) and World Association of Nuclear Operators.
The company worked with Abu Dhabi Transmission and Despatch Company (Transco ) to establish the link.
Transco constructed a 952km overhead power line with of 400KV capacity to connect the Barakah Nuclear Energy Plant Unit 1 to the Abu Dhabi electricity grid. The overhead lines ensure that the power generated at Barakah is safely delivered to consumers across the UAE.
Transco CEO Dr Afif Saif Al Yafei said: "Transco plays an important role in facilitating a more sustainable energy future for the UAE.
"As the country forges ahead with utility-scale clean energy projects, Transco continues to ensure these projects can effectively integrate with our existing network infrastructure to provide a secure and stable supply of power to the community."
Earlier this month, Nawah initiated operations at Unit 1 of the Barakah nuclear energy plant.