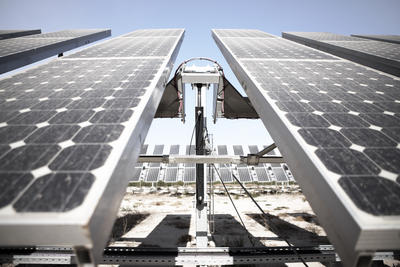 Power and automation group ABB has entered into an agreement with independent solar energy plant company, FG Emvelo to develop concentrating solar facilities in South Africa.
The plants will be in Karoshoek Solar Valley in Northern Cape province and use the ABB-Novatec Solar turnkey concept, which reduces the need for land by 40% and water consumption by 80%.
FG Emvelo managing director Florian Fritsch said: "With [ABB's] collaboration and the use of linear Fresnel technology, we will be able to take significant steps towards achieving our goal of a solar 'Silicon Valley' at Karoshoek."
The collectors use flat glass mirrors to reflect solar energy onto a receiver, in which water is vaporised directly to produce superheated steam at temperatures of up to 500oC.
The direct steam technology operates without thermo oil or any other toxic heat transfer medium.
Benefits of the concept include the automated mass production of key components in local production facilities, a fast assembly process, highly efficient land use and a robotic cleaning system, which uses very little water.
Photo: Collectors will use flat glass mirrors to reflect solar energy into a receiver. Image: courtesy of ABB.