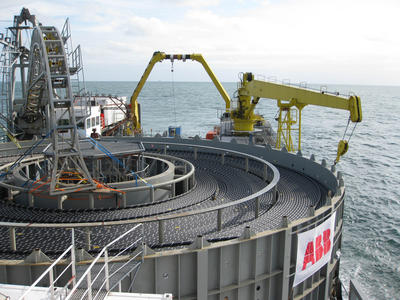 Power and automation technology firm ABB has secured a contract worth around $30m from Danish transmission system operator Energinet to provide a new high-voltage submarine and underground power cable system in Denmark.
It will be delivered to the Little Belt, a strait between the Danish island of Funen and the Jutland Peninsula. ABB will be responsible for the design, supply and commissioning of the system, including cable terminations and the laying of the submarine cable.
ABB head power systems division Martin Gross said: "It reiterates our commitment to take power cable systems to higher voltages and greater efficiency while minimizing environmental impact."
Under the terms of the contract, ABB will supply single-core 420kV underground cables with a total length of 30km and two three-core 420kV submarine cables that are 15km in length. Only one of the three-core cables will be laid, instead of three separate single-core cables, this will considerably reduce costs as well as the cable's footprint.
Once complete in 2013, the system will be the most powerful three-core alternating current (AC) submarine power cable in the world.
Recently, ABB completed a similar record-breaking submarine cable system across New York harbour in the US. It connects a new high-efficiency power plant in New Jersey to a high voltage substation in Brooklyn, at a record voltage level of 345kV AC.
Photo: ABB's new cable system will replace high-voltage overhead lines and transmission pylons in environmentally sensitive areas in Denmark. Image: courtesy of ABB.