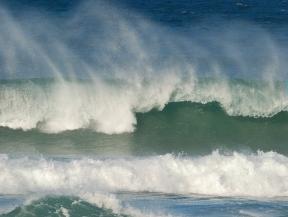 French engineering group Alstom has signed a new joint venture agreement with marine developer SSE Renewables for the 200MW Costa Head wave project in Scotland.
The project site is located at depths of 60-75m and is expected to be the world's largest offshore wave farm.
Detailed site surveys and an environmental impact assessment will be carried out by the firms to develop the site with an initial 10MW phase.
The partnership will obtain the necessary permits and install AWS-III wave energy converters, currently under development by AWS Ocean Energy.
AWS-III technology consists of a multi-cell array of flexible membrane absorbers, which convert wave energy into pneumatic power through the compression of air within cells that are inter-connected. Turbine-generator sets will then convert this pneumatic power into electricity.
Each AWS-III a floating device, with a rated power output of 2.5MW, will be connected to a central offshore substation through a high-voltage link cable.
Full scale component testing will begin in later this year with the support of the Scottish Enterprise-administered Wave and Tidal Energy fund.
A full-scale prototype is planned for deployment at the European Marine Energy Center in 2014.
AWS Ocean Energy chief executive Simon Grey said: "The selection of the AWS-III system for this exciting and ground-breaking project is a significant endorsement of our technology and team. We firmly believe that the AWS-III will become the established choice for utility scale offshore wave power generation."
Alstom has acquired a 40% equity share in AWS Ocean Energy.
Image: Wave energy is a widely distributed renewable resource worldwide, with an estimated potential market of 200-300gW. Photo: Freedigitalphotos.net