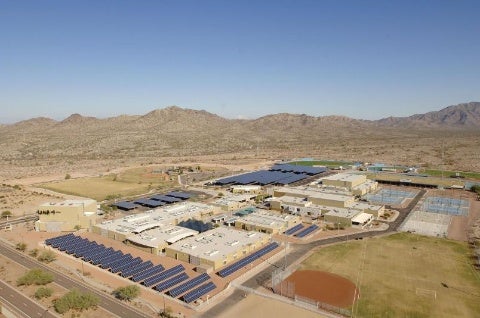 Constellation Energy (CEG) has completed the installation of a 4.29MW (DC) solar generation project at the Buckeye Union High School District in the US state of Arizona.
The projects are at three sites, Buckeye Union High School and Youngker High School, also in Buckeye, as well as Estrella Foothills High School in Goodyear.
The installations collectively generate enough electricity to power the three schools, meeting up to 70% of the school district's electricity needs. US-based CEG's retail business owns and will maintain the solar power systems.
They were developed by GV Enterprises and REgeneration Finance and built by CORE Construction. In addition, they were aided by the Arizona Corporation Commission, under the approved APS renewable energy incentive programme, which offers financial incentives, covering up to 40% of the installation costs, to customers who add renewable energy systems to their homes or businesses.
The solar power systems include some 15,468 photovoltaic panels on 29 carport rooftop structures and on two ground-mounted installations.
The project is expected to generate more than 7 million kilowatt hours of electricity a year. Generating the same amount of energy using nonrenewable sources would result in the release of 3,875t of carbon dioxide.
Furthermore, the school district will purchase and receive all of the electricity generated by the solar panels at a fixed rate from CEG under a 25-year solar services agreement.
Currently, Constellation Energy owns and operates more than 100MW of solar installations that have been completed or are under construction throughout the US.
Image: The solar power systems consist of some 15,468 photovoltaic panels, located on two ground-mounted installations. Photo: courtesy of Coreconstruction.