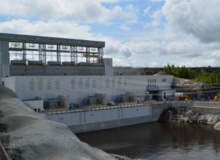 Ontario Power Generation (OPG) completed development of the $2.6bn Lower Mattagami hydroelectric project, in co-ordination with Moose Cree First Nation from Ontario, Canada.
The redevelopment project involved upgrades to OPG's four pre-existing hydropower stations. These were Little Long, Smoky Falls, Harmon, and Kipling, located along the Lower Mattagami River.
The four stations are around 70km north-east of Kapuskasing and almost 150km upstream of Moose Factory and Moosonee.
Built in 1931, the Smoky Falls facility had a power generation capacity of 52MW. This has now been increased to 267MW.
The US Energy Department announced more than $59m funding for the country's solar energy sector in the hope of doubling renewable power generation by 2020.
Out of this funding, $45m will be used to introduce innovative solar manufacturing technologies to market, and the remaining $14m will be invested into 15 new solar development projects.
The projects are expected to assist communities in constructing multi-year solar deployment plans for solar power installations for households, businesses, and communities.
The developments will involve either expansion of shared or community solar programmes and local financing mechanisms, or integration of solar power generation plans into communities' emergency response initiatives.
India's state-controlled National Thermal Power Corporation (NTPC) barred overseas companies from bidding for three new solar power projects with a combined generation capacity of 750MW, leaving the scope open only for domestic manufacturers.
The reason behind the NTPC decision has not been disclosed yet.
Reuters cited a NTPC spokeswoman as saying that Indian subsidiaries of foreign manufacturers will, however, be free to take part in solar projects in the future.
US President Barack Obama, during his visit last weekend, had approved solar power plans proposed by Indian Prime Minister Narendra Modi.
General Electric plans to construct a 1,200MW thermal power plant in Ghana in order to ease the country's power shortage.
The power plant will become operational in the next five years; Reuters quoted GE chief executive Jeff Immelt as saying.
GE will also provide emergency power systems to the West African country this year in order to overcome the present power crisis.
This project, once operational, will be the largest in the country, and exceed production at the primary hydroelectric source at Akosombo.
Itaú Unibanco, Brazil's largest lender in the private sector, received a loan of $400m from the International Finance Corp and a group of commercial banks in order to help finance renewable power projects in the country, which have been experiencing severe power shortages.
Itaú has been focusing on financing projects that would cut down the energy generation costs, implement efficient water treatment, and reduce carbon emissions, reports Reuters.
This is considered to be the largest amount to be ever raised by a bank in Latin America for financing initiatives to address climate change in the region.
Austria is planning to mount a legal challenge against the European Commission over nuclear policy, which could delay the UK's new Hinkley Point C reactor.
In October last year, the European Union gave approval to a £17.6bn subsidy scheme, which would enable the first new nuclear reactors to be built in the UK for nearly 20 years.
As a non-nuclear nation, Austria claims that the EU's decision to support green energy clashes with the nuclear approval.
Austria intends to sue at the European Court. The lawsuit can be submitted within two months from the publication by the European Commission, which is expected shortly.
Solar power producer SunEdison raised $590m to fund the acquisition of Boston-based renewable energy firm First Wind.
The company has raised $190m by selling its 12.9 million shares in SunEdison Semiconductor.
Another $400m was secured by the company through credit commitments with multiple financial institutions.
The entire fund will be used to meet upfront cash payments to be made for the First Wind acquisition.
SunEdison and TerraForm Power signed the $2.4bn deal for First Wind in November 2014, under which the former's share of upfront consideration is around $1bn.
Germany-based power utility firm E.ON announced it would sell around 4500MW of its coal and gas generation assets in Italy to Czech energy company Energetický a Prumyslový (EPH).
Under the deal, EPH will acquire around 600MW of coal-fired power facility in Sardinia (Fiume Santo).
Nearly 3,900MW power capacity from E.ON's six gas-fired power plants in the Italian mainland and Sicily will now be a part of EPH's portfolio.
The transaction, which is expected to be concluded by the second quarter of 2015, still awaits approval of the EU competition authority.
The recent hacking incident at South Korea's nuclear operator could mean the Wolsong reactor be permanently shutdown due to safety concerns, according to the Nuclear Safety and Security Commission.
Reuters quoted Kim Hye-jung, one of the nine commissioners to review an application to recommence the country's second oldest reactor, as saying: "The operator failed to prevent it (the hack) and they don't know how much data has been leaked.
"If the old reactor is still allowed to continue to run, it will just hike risks."
In the next few days, the Nuclear Safety and Security Commission will begin reviewing the application if the Wolsong No1's lifespan should be extended by a decade to 2022.
Federal Electricity Commission (CFE) in Mexico selected Spanish power technology firm Abengoa to develop the 924MW Norte III combined cycle power plant (CCPP) in Ciudad Juárez.
A $1.55bn contract has been signed for the project.
The developments are part of the Mexican Government's National Investment Plan 2014-18.
As well as engineering, designing and constructing the combined cycle plant in Mexico, Abengoa will offer operation and maintenance services at the facility for a period of 25 years.