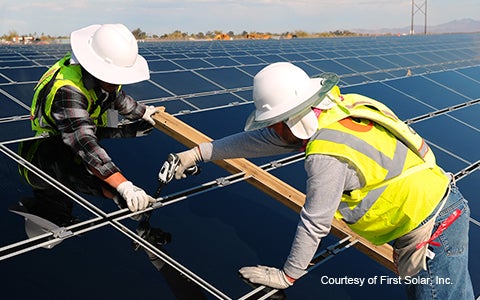 MidAmerican Energy Holdings Company has signed a deal to acquire the 550MW Topaz solar farm from First Solar for an undisclosed sum.
The $2bn photovoltaic power plant is being built in the US state of California.
The Topaz project will incorporate the company's advanced thin-film PV modules; these generate electricity with no emissions, waste or water use and have the smallest carbon footprint of any PV technology.
The solar plant is expected to eliminate about 377,000t of CO2 each year and will have the capacity to generate enough renewable energy to power around 160,000 homes in California.
The development is one of the two largest PV projects in the world, both being built by First Solar.
Greg Abel, MidAmerican Energy Holdings Company chairman, president and CEO, said: "Our investment in wind resources benefits both our customers and the environment. Our entry into the solar energy industry expands our renewable energy footprint that will help meet current and future energy needs."
First Solar will construct, operate and maintain the Topaz project for MidAmerican.
Construction began in November 2011 and is expected to be complete by early 2015.
The project is estimated to inject $417m into the local economy, the majority of which will be generated during construction, with the remainder from the project's minimum 25-year operating period.
Pacific Gas and Electric Company will purchase the electricity from Topaz under a 25-year power purchase agreement, helping California to meet its target of generating 33% of its power from renewable sources by 2020.
Caption: The Topaz project will incorporate the First Solar's thin-film PV modules