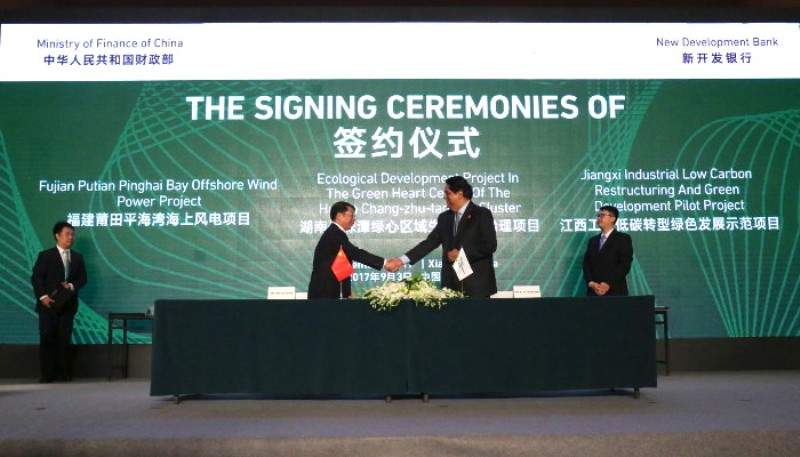 The New Development Bank (NDB) has signed three loan agreements with a total value of more than CNY5bn ($765m).
The loans will be used to fund the Fujian Putian Pinghai Bay offshore windpower project, Jiangxi Industrial low-carbon restructuring and green development pilot projects, and Ecological Development project, which are to be built in Fujian, Hunan, and Jiangxi provinces respectively.
NDB president K V Kamath said: "The NDB was established by Brazil, Russia, India, China, and South Africa (BRICS) countries to finance infrastructure and sustainable development activities.
"To date, the Board of Directors of NDB has approved 11 [green] projects with loans aggregating more than $3bn.
"We hope that the projects supported by the bank will act as catalysts for development and benefit the lives of people in our member states."
NDB will provide a sovereign project loan of CNY2bn ($306m) to China for the 250MW offshore windpower project in Putian. This will be able to produce 873,000kWh of electricity annually once completed.
The generated energy will be sold to the provincial grid, and is anticipated to reduce 869,900t of carbon emissions annually.
A total of CNY1.3bn ($200m) will be provided for the iangxi Industrial low-carbon restructuring and green development pilot project, which aims to encourage energy conservation, resources recycling, and pollutants reduction.
CNY2bn ($306m) will be provided for the Ecological Development Project, which seeks to improve flood control and water quality in Hunan Province's Xiang River basin and is expected to benefit almost 50 million residents.
---
Image: Deal signing ceremony between NDB and Chinese representatives. Photo: courtesy of NDB.