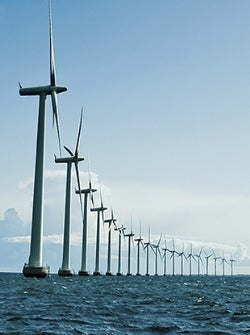 UK-based firm Ricardo has signed an engineering services contract with industrial gearing solutions provider David Brown for an offshore wind turbine project.
Martin Fausset, Ricardo managing director, said: "This builds upon the solid foundations laid over the last year in our other wind programmes. [We are] delighted to be working with David Brown and look forward to developing the relationship further and capitalising on the growing offshore wind market".
The deal follows David Brown's announcement of its collaboration with Samsung Heavy Industries to design and manufacture an innovative 7MW gearbox for a new range of offshore wind machines.
Ricardo will be responsible to undertake support activities covering concept review, dynamic analysis, validation of detailed component and system analysis for this project. In addition, it will provide assistance to the drive train rig and field testing in order to facilitate the final certification process.
The firm will work alongside David Brown to provide an additional assurance step in this project for both David Brown and its customers. Ricardo was selected for the project due to the company's understanding of the full product development, its capabilities in design review, analysis and product validation.
The project has been launched and is scheduled to support delivery of the first prototype gearboxes in 2013, with follow-on work in support of test and certification activities.
In addition to this project, Ricardo is also actively developing its clean energy business in other areas including marine power, energy storage and smartgrid systems, concentrated solar power, fuel cells, as well as combined heat and power systems.
Ricardo is a provider of technical and strategic consulting services to transportation sector industries.
Image: Offshore wind is set to be the major growth area in the turbine market. Photo: courtesy of Ricardo.