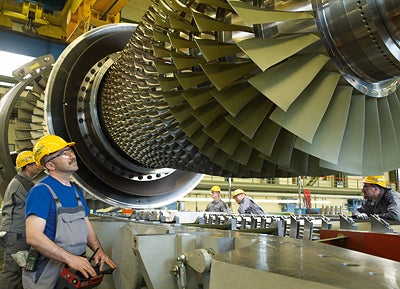 Siemens Energy has received an order worth more than $1bn to supply components for a 4GW IPP Qurayyah combined-cycle power plant in Saudi Arabia.
The order was placed by Samsung C&T, which also acts as EPC contractor. Siemens will provide 12 SGT6-5000F gas turbines, 18 generators of the SGEN6-1000A series and six SST6-4000 steam turbines together with the associated electrical systems.
The facility will supply enough electrical energy to meet approximately one tenth of the country's current power demand for its 28 million people. In addition, a long-term service and maintenance agreement for the power plant was signed with Hajr Project Company, which is owned by SEC, ACWA and Samsung C&T.
Commissioning of the total six blocks is scheduled for 2014, operated by Hajr as an Independent Power Producer (IPP). The company will supply the components from its recently-inaugurated US gas turbine production plant in Charlotte, North Carolina, and from its manufacturing plants in Berlin and Muelheim, Germany.
The project consortium is led by the Saudi company, ACWA Power with Samsung C&T and MENA fund as further members.
Last year, Siemens Energy received an order from Saudi Arabia worth more than $1bn to supply components for a 2,400MW Ras Az Zawr combined-cycle power plant.
Last year, the firm also announced it has plans to invest several hundred million US dollars to build a production and service centre for gas turbines in the eastern province of Saudi Arabia.
Photo: Siemens Energy will deliver components from its US gas turbine production plant to Saudi Arabia. Image: courtesy of Siemens.