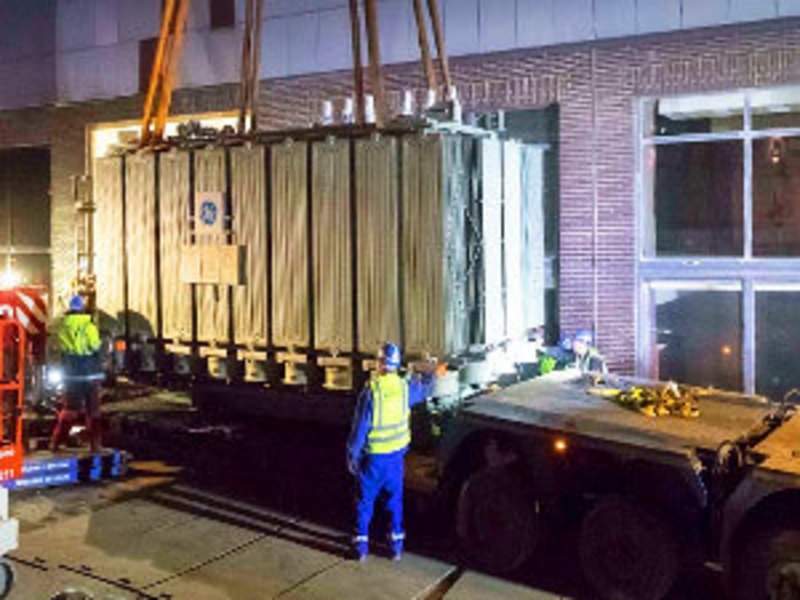 GE Energy Connections has delivered two 63MVA transformers to German distribution network operator Stromnetz Hamburg to modernise the company's Hamburg Mitte substation.
With the delivery of the transformers, Stromnetz Hamburg has completed the first milestone of its modernisation project. The company's technical director Thomas Volk said: "The Hamburg Mitte substation is one of our oldest facilities and as such not very recognisable for most of the inhabitants of Hamburg.
"We undertake substantial investment efforts to maintain our facilities in a secure and discreet state within the city scape."
Filled with oil weighing 77t, the two power transformers were delivered from a GE plant in Mönchengladbach, Germany.
As part of the project, a new building will be constructed within the existing Hamburg Mitte substation, while the old facility will remain operational to ensure a reliable supply of power to the area. The old facility will be retained until the new substation is handed over to Stromnetz Hamburg in the second half of 2018.
GE Energy's connections Berlin grid solutions account sales director Axel Kossmann said: "We are happy to continue the positive cooperation with Stromnetz Hamburg following the completion of the modernisation of Jenfeld substation and while actively working on the modernisation of the Hamburg West substation.
"Our technology will provide the facility with the necessary flexibility to be able to react to the requirements of the energy transition."
Under the terms of the deal, GE will also perform electro-technical planning, installationm, and commissioning of the two transformers, as well as one gas-insulated switchgear (GIS).
The contract for the GE transformers was awarded by Stromnetz Hamburg in spring this year.
---
Image: GE transformers deployed at Stromnetz's Hamburg Mitte substation in Germany. Photo: courtesy of Stromnetz Hamburg.