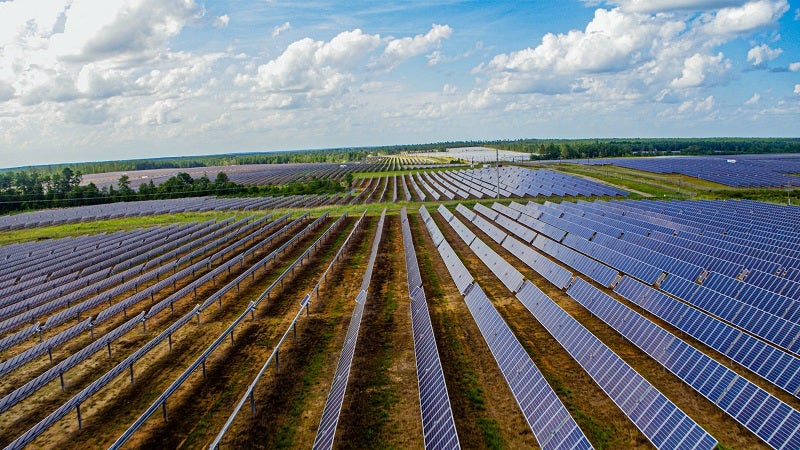 US-based company NEXTracker has secured a contract from mining company Vale to supply solar trackers for the Sol de Cerrado solar project in Brazil.
The company will provide its NX Horizon bifacially optimised smart solar trackers for the 766MWp project.
Located in Minas Gerais, the project will power Vale's mining operations in the state's Jaíba area.
The solar complex, expected to be one of the largest in Brazil once built, will be interconnected to the regional transmission grid.
Construction works at the site will begin this year, with completion scheduled for next year.
Once operational, the clean energy generated by Sol de Cerrado solar project will help Vale meet 13% of its total energy requirements in Brazil.
The project will help the company to offset greenhouse gas (GHG) Protocol Scope II emissions by up to 136,407t of CO₂ a year.
Vale aims to produce all the energy required for its Brazilian operations by 2025 and achieve carbon neutrality across its global operations by 2050.
Vale global procurement director Marco Braga said: "Our decision was based on Nextracker's proven performance after a thorough due diligence process.
"We are very confident of Nextracker's experience and the reliability of its products to support Vale in solving the challenges of this important project."
Nextracker's Brazilian office will support the project with engineering, commissioning and asset management services, as well as offering advanced data analytics for preventive maintenance.
Nextracker Latin America sales vice-president Alejo Lopez said: "Vale's Sol de Cerrado project is yet another example of how the mining industry is embracing renewables as a reliable source of generation to power operations and offset greenhouse gas emissions.
"We look forward to working closely with Vale and deploying our smart solar trackers and software to maximise plant performance while minimising operational costs for the 30-year-plus lifetime of the plant."
In March, Nextracker secured a contract to supply its solar trackers for an 830MW solar photovoltaic plant in Brazil.
Engineering, procurement and construction (EPC) firm Andrade Gutierrez and developer Elera Renováveis issued the contract for phase one of the Janaúba PV plant. The solar complex is located near the city of Janaúba in Minas Gerais.