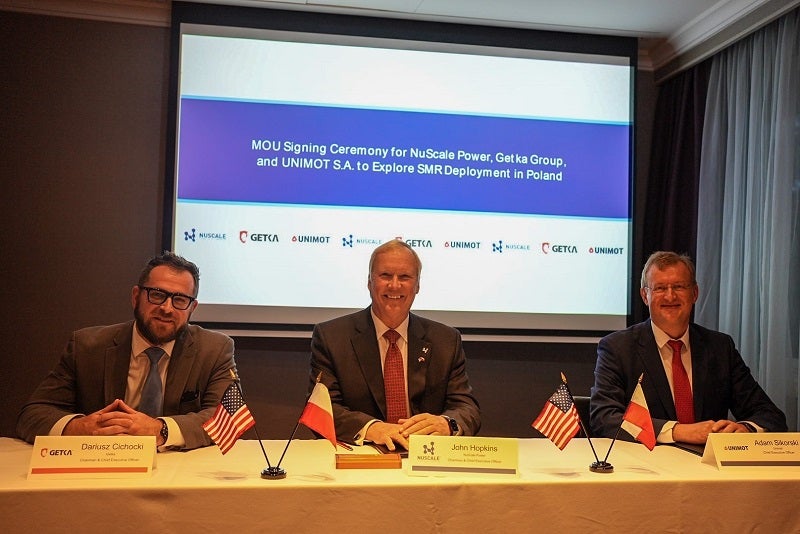 US-based nuclear power company NuScale Power has signed a memorandum of understanding (MoU) with Getka Group and Unimot to explore opportunities for using its small modular reactor (SMR) technology at coal-fired power plants in Poland.
Under the MoU, NuScale will support Getka and Unimot's examination of its SMR technology as a coal repurposing solution.
The company has also agreed to help with building nuclear plants in the country.
The examination of the SMR technology will include analyses of technical, economic, legal, regulatory, financial and organisational factors among others.
Getka is an integrated energy company based in the US, while Unimot is a Polish firm that provides gas and electricity for wholesale and retail customers.
NuScale Power chairman and CEO John Hopkins said: "The partnership between these three companies demonstrates the versatility and value of NuScale's SMR technology for a variety of applications.
"NuScale's SMRs are an ideal clean, reliable and affordable energy solution to repurpose retiring coal-fuelled power plants across Poland."
Unimot Management Board president Adam Sikorski said: "We are pleased that this is another area to develop low-emission projects in Poland, where we can be as involved as the Unimot Group in decarbonisation.
"Our role will be promoting SMR technology as a reliable alternative for coal technologies, and acquiring business partners in the Polish market."
Getka Group chairman and CEO Dariusz Cichocki said: "This project aligns with our commitment to decarbonise and diversify Poland's energy infrastructure.
"Through our ongoing partnership with UNIMOT, we are pleased to partner with NuScale to bring innovative solutions to market in Central Europe."
Last August, NuScale Power secured the final safety evaluation report (FSER) from the US Nuclear Regulatory Commission (NRC) for its SMR technology.
The FSER was released by the NRC after completing a Phase Six review. This was part of NuScale's efforts to bring its SMR technology to market by 2030.