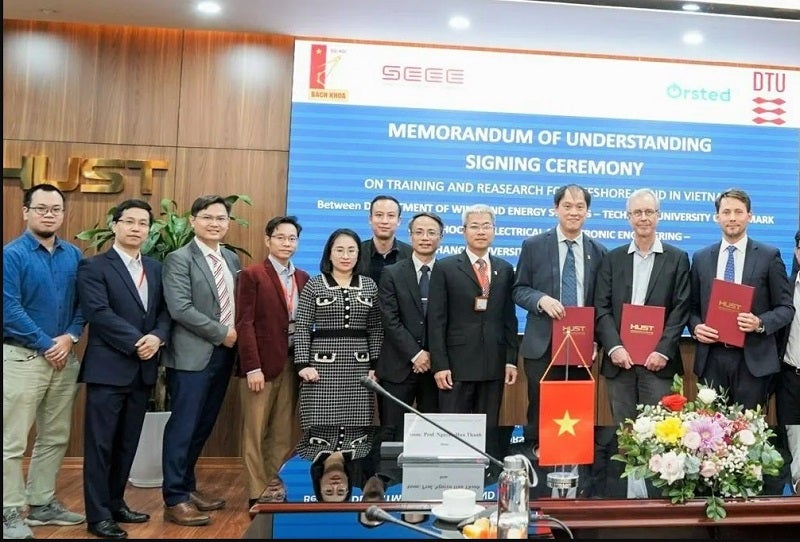 Danish energy company Ørsted has partnered with Hanoi University of Science and Technology (HUST) and the Technical University of Denmark (DTU) to support Vietnam's offshore wind sector.
The partners aim to enhance technology research and talent training for offshore wind in the region.
Ørsted Vietnam country manager Sebastian Hald Buhl said: "Today, we have delivered the first concrete action from last month's memorandum of understanding (MOU) with T&T Group and the Ministry of Planning and Investment's National Innovation Centre.
"This agreement brings together some of the brightest minds in offshore wind to enhance talent, technology and training in Vietnam.
"It will deliver meaningful joint research and training activities that will benefit Vietnam's offshore wind sector as a whole and act as a springboard for further important activities."
One of the largest universities in Vietnam, HUST is engaged in research, knowledge development and training in science, technology and engineering.
DTU is considered to be a leading university for wind power research and Energy Systems education.
Using funding and support from Orsted, the two universities will focus on developing new connections while transferring knowledge and facilitating training for students and lecturers to bolster their offshore wind sector expertise.
In addition, the partners aim to launch an offshore wind research and development (R&D), training and industrial development centre under the National Innovation Centre.
DTU Wind and Energy Systems department head Peter Hauge Madsen said: "The climate challenges are urgent and we really need to collaborate to beat these challenges.
"In Denmark, we have been working on wind energy for 40 years and around 50% of our supply is now powered by wind energy.
"I'm very pleased that we can bring our experience and expertise to work together with HUST on education and research to improve the capacity, as well as the technology, in the future."