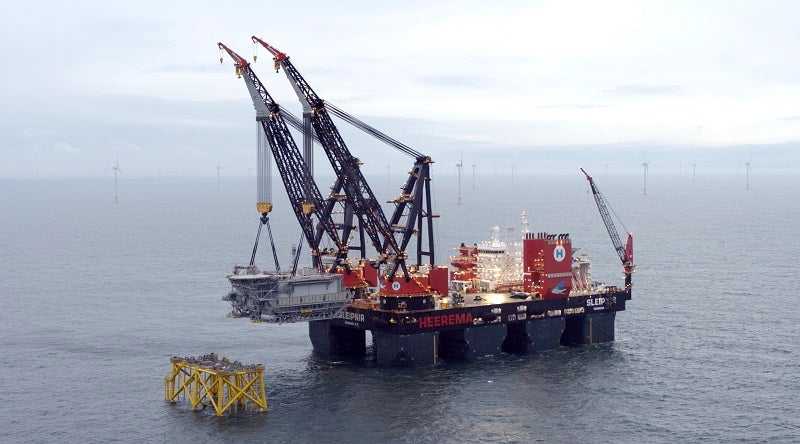 Danish power company Ørsted has awarded planned preventative maintenance (PPM) contract for the 1.3GW Hornsea 2 offshore wind farm to Sembmarine SLP , a subsidiary of Sembcorp Marine.
Located 89km off the Yorkshire coast in the UK North Sea, Hornsea 2 became fully operational in August this year. It can power more than 1.4 million homes in the country.
Under the PPM contract, Sembmarine SLP will be responsible for the maintenance and servicing of the low voltage and ancillary systems on both the offshore substation (OSS) as well as reactive compensation station (RCS), with the option of further service extension.
Ørsted Transmission and Maintenance manager Peter Russell said: "It is great to have Sembmarine SLP on board as our exclusive service partner for the Hornsea 2 Offshore Wind Farm.
"They are perfectly placed to undertake the PPM element of the project following their excellent delivery of the hook-up and commissioning under challenging circumstances.
"We look forward to partnering with the Sembmarine SLP team to advance our renewable energy objectives through our Hornsea 2 Offshore Wind Farm operations."
It is the first sole supplier maintenance contract that has been awarded to Sembmarine SLP.
The PPM contract was awarded to Sembmarine SLP after the completion of the offshore installation, hook-up and commissioning of platforms at the Hornsea 2 Offshore Wind Farm in the UK in March this year.
Sembmarine SLP managing director Colin Yaxley said: "We are greatly looking forward to working with Ørsted once again and expanding our experience of servicing offshore wind farms.
"Our success on the hook-up and commissioning of the Hornsea 2 Offshore Wind Farm platforms fabricated by our sister company, Sembcorp Marine Offshore Platforms in Singapore, has been a large contributing factor to our award for the PPM contract.
This exclusive contract will position Sembmarine SLP as Ørsted's main service provider for Hornsea 2 Offshore Wind Farm's LV and ancillary systems, enabling enhanced operational efficiency and greater risk mitigation for the developer.