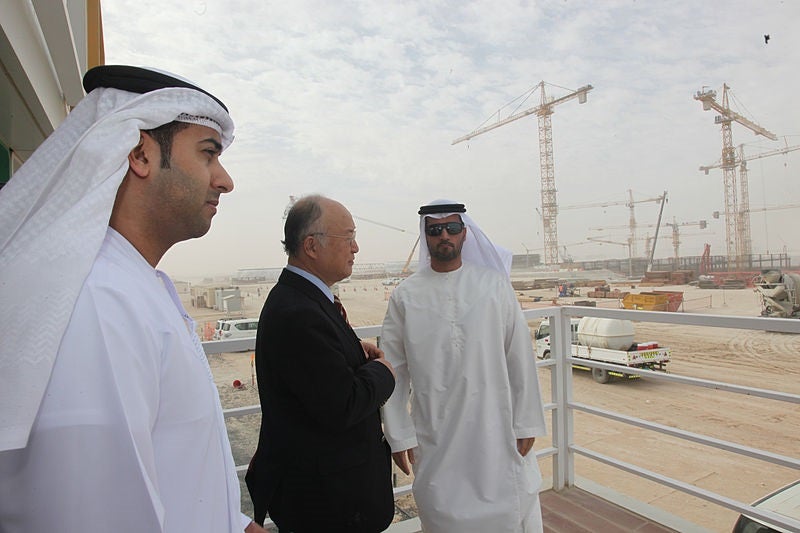 Qatar has asked the International Atomic Energy Agency (IAEA) to intervene in a dispute with the United Arab Emirates (UAE) over the Barakah nuclear power plant, the largest nuclear power plant under construction in the world.
Qatar alleges that the plant is a serious threat to regional stability and the environment. The country claims that the plant has untested technology as there is only one other similar commercial reactor in the world. If there were a radioactive plume or discharge, Qatar claims it would reach Doha in five to 13 hours and contaminate the country's water supply.
In a letter to the IAEA, Qatar's foreign ministry wrote: "Qatar believes that the lack of any international co-operation with neighbouring states regarding disaster planning, health and safety and the protection of the environment pose a serious threat to the stability of the region and its environment."
UAE permanent representative to the IAEA Hamad Al Kaabi told Reuters: "The United Arab Emirates adheres to its commitment to the highest standards of nuclear safety, security and non-proliferation."
The Barakah nuclear plant was initially expected to come online in 2017 but is now scheduled to begin operations in 2020. Costing $24bn, it has a capacity of 5,600MW and is a joint project between the Korea Electric Power Corporation (KEPCO) and the Emirates Nuclear Energy Corporation (ENEC) with EDF Energy providing operations and maintenance assistance (O&M).
Relations between Qatar and the UAE are tense after diplomatic ties were cut in June 2017 over allegations that Qatar supports terrorism, a charge which Qatar denies.
The UAE is a signatory of the Nuclear Proliferation Treaty (NPT) and a member of the IAEA, and the Barakah plant is inspected regularly by the agency.
When approached for comment an IAEA spokesperson said that it is not the practice of the IAEA to confirm or comment on exchanges with its member states.