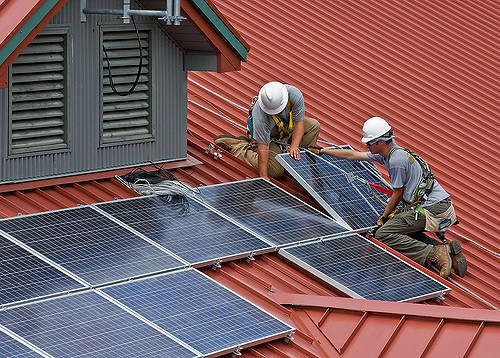 The Zhejiang Province in east China is leading the way in domestic solar systems, subsidising the installation of rooftop systems on residential houses as part of wider efforts to cut the country's emissions and introduce cleaner energy sources to the mix.
The Zhejiang Development and Reform Commission figures showed that by the end of August, 7.22 million kW of the area's total 10.6 million kW solar capacity was derived from residential solar power systems.
Deputy director of the Commission Cai Gang said solar energy was identified as the primary source of renewable power in Zhejiang, adding that it has become an effective substitute power source during energy consumption peaks in the region.
The provincial government has been encouraging the deployment of solar systems this year, offering subsidies of 0.32 yuan (US$0.05) per kWh of domestic energy generated through household solar power.
In the first eight months of this year, 121,000 households installed a rooftop solar system, adding 572,000 kW to the area's overall 2.3 million kW of solar power, an increase that the commission attributes to the incentive of the subsidies.
The average roof of a rural house can hold between 12 and 22 solar panels, and urban houses offer larger capacities. Homeowners can either buy the panels or rent them from local energy firms which provide free maintenance services.
China currently accounts for a quarter of global primary energy consumption and is expected to continue growing, with the country's 13th Five-Year Plan targeting 2,000 GW of capacity installed by 2020, an increase of 20%.
While China has historically been one the largest consumers and producers of fossil fuel-based energy sources, it has been working to transition to renewables as part of President Xi Jinping's 'war on pollution'. As such, hydro, wind, bioenergy and solar projects are all being developed at breakneck speed.
By the end of 2017, China was home to 341 GW of hydropower, 1463 GW of wind and 130 GW of solar PV. The country has more solar energy capacity than any other nation and is also the largest manufacturer of solar panel technology. According to the International Energy Agency, more than 60% of global solar panels are made in China. The agency also noted that China met its 2020 solar target three years ahead of schedule.