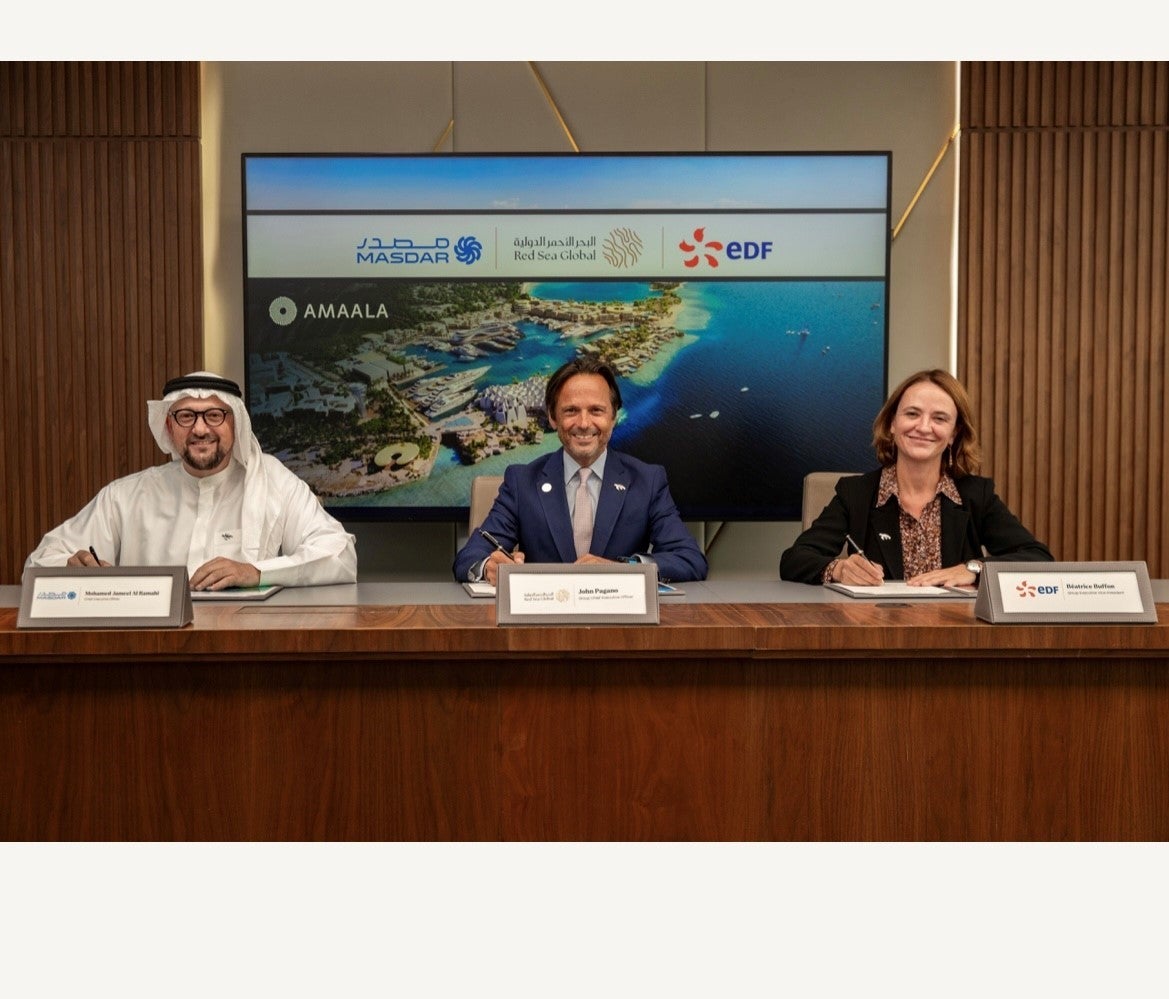 Saudi Arabian state-owned developer Red Sea Global (RSG) has entered into a 25-year concession agreement with French utility EDF and renewables producer Masdar to construct a multi-utilities facility that will power the Amaala tourist project.
The facility will consist of an off-grid renewable energy system, which will generate electricity from solar photovoltaic (PV) technology. It will also include a 700 megawatt-hour (MWh) battery storage system that will supply reliable, 24/7 power to the project as well as a desalination plant and a wastewater treatment plant. Everything in the facility will be powered by renewables, with the aim to eventually power Amaala entirely by solar energy, RSG, EDF and Masdar said in a joint press statement.
The new facility will have the capacity to generate up to 410,000MWh annually. The water desalination plant, which uses reverse osmosis technology, will have the capacity to process 37 million litres of water per day.
"Our new partnership with EDF and Masdar will drive us towards achieving a zero-carbon footprint once [the facility is] fully operational," said John Pagano, group CEO of RSG. "The project follows the template for success provided by The Red Sea, where we recently completed the build of five solar farms, procuring a destination-wide utility system that enables us to operate with no connection to the national grid."
The partnership comes in the form of an independent public-private partnership, and covers the design, construction, financing, engineering, operation and maintenance of the systems within the facility, accompanied by the associated networks and infrastructure. The agreement comes with the option to extend the initial 25-year term.
Béatrice Buffon, executive vice-president at EDF's international division, said: "With more than 90% of its electricity production decarbonised, EDF is pursuing its ambition to contribute to reach carbon neutrality by 2050. Our objective is to continue to be a key player in the development of innovative, fully resilient and net-zero electrical systems."
Despite efforts to decarbonise specific areas in the Red Sea with projects such as Amaala, Saudi Arabia still generates 99% of its power from fossil fuels. The country has been promising a solar revolution for years, but so far the country is only on track to hit 1.5GW of renewable capacity by the end of this year, according to forecasts from Power Technology parent company GlobalData. In 2013, the government announced that the nation would aim for 24GW of installed capacity by 2020, a goal that is yet to be realised.