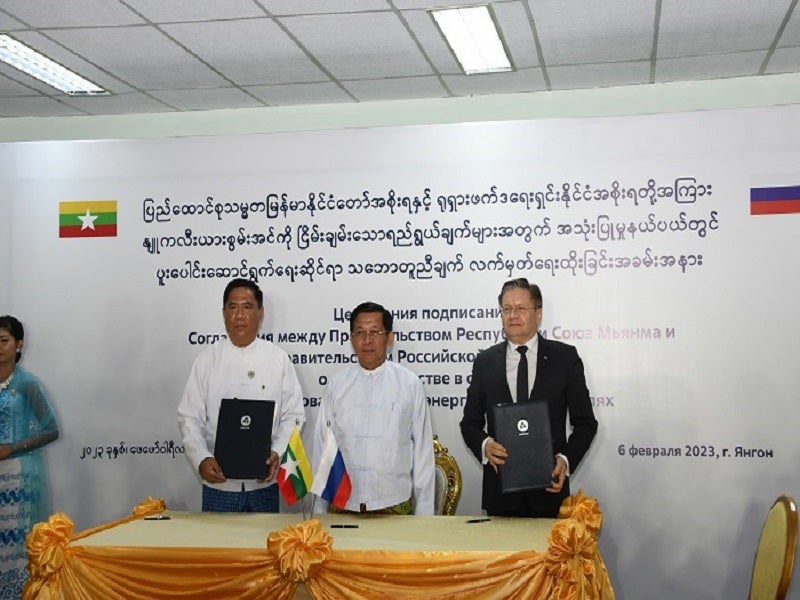 The Russian government has signed an Intergovernmental Agreement with Myanmar for the use of nuclear energy.
Under the agreement, the two countries will work on the implementation of small nuclear power plants (SNPP).
Prime Minister of Myanmar, State Administration Council chairman and Senior General Min Aung Hlaing said: "This agreement is the cooperation not only for the Small Nuclear Power Plant but also the applications of nuclear technology in multi sectors and it will enhance the socioeconomic development of the country."
Rosatom director-general Alexey Likhachev signed the Intergovernmental Agreement with the Union Minister for Science and Technology Dr Myo Thein Kyaw.
The agreement was signed at the Nuclear Technology Information Centre in Yangon, a joint project of Rosatom and Myanmar's Ministry of Science and Technology.
The two parties said the Intergovernmental Agreement was a 'logical step' in continuing relationships between Russia and Myanmar, providing a 'solid foundation' for further cooperation.
Likhachev said: "Today begins a new chapter in the history of Russian-Myanmar relations, the 75th anniversary of which we are celebrating this year.
"The creation of a new industry in the country will undoubtedly benefit the energy sector, industry and the economy of Myanmar.
"Nuclear energy offers a steady reliable supply of clean energy at a stable price.
"The introduction of nuclear technologies implies a powerful impetus for the development of natural sciences, education and training of highly qualified personnel.
"We appreciate the fact that Myanmar has given preference to Russian nuclear technology."
In August last year, Rosatom secured a permit from the Hungarian Atomic Energy Authority (OAH) to build two units at the Paks II nuclear power plant site.
The two power units will both be Generation III+ VVER-1200 reactors, which are claimed to be the first reactors of their kind in the European Union.