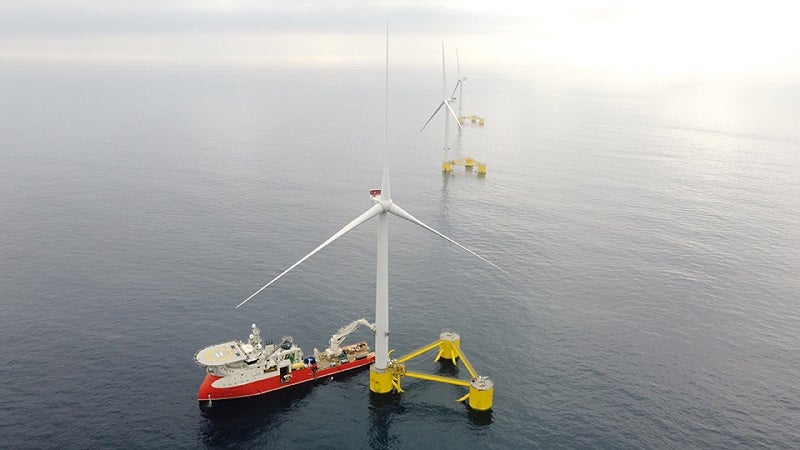 Repsol has announced that the WindFloat Atlantic floating wind farm off the shores of Portugal has started supplying renewable energy to the country's electrical grid.
The company says WindFloat Atlantic is the world's first semi-submersible floating wind farm. It has an installed capacity of 25MW, enough to meet the power demand of 60,000 users annually. Repsol says this will offset 1.1 million tonnes of carbon emissions.
The Windplus consortium leading the project consists of EDP Renewables and ENGIE's joint venture Ocean Winds, Repsol, and Principle Power.
WindFloat Atlantic comprises of three platforms equipped with 8.4MW wind turbines. Repsol claims these are the largest wind turbines ever installed on a floating platform.
The platforms are 30m in height, and are placed at a 50m distance between columns.
Construction works at the wind farm concluded after the three platforms were linked to a 20km export cable.  This links the wind farm to the substation at Viana do Castelo, Portugal.
The commissioning of the wind farm is an achievement for the sector as floating wind technology has potential to develop otherwise inaccessible areas for offshore wind. Repsol said this also represents a major technological leap towards a carbon-free economy.
The platforms for the wind farm were assembled using dry-dock assembly, which has offered significant logistical and financial savings. The structures were towed using standard tug boats.
The model of Windfloat Atlantic is suitable for areas where there are adverse seabed conditions or locations where traditional bottom-fixed offshore wind technology is not an option.