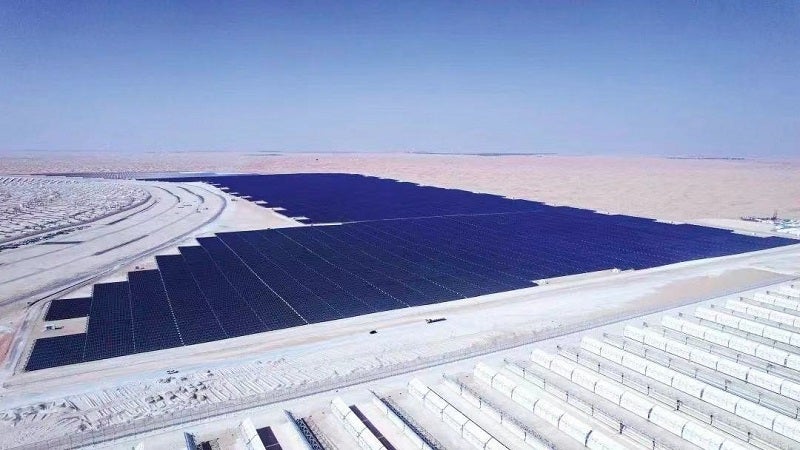 Chinese energy company Shanghai Electric has announced the completion of Phase B of the 900MW fifth phase of the Mohammed bin Rashid Al Maktoum Solar Park in Dubai, United Arab Emirates (UAE).
Part of one of the world's largest solar photovoltaic (PV) facilities, the project will have the capacity to generate 2.268 billion kWh of power a year upon completion.
It will generate enough clean energy to power 240,000 homes in the region while displacing 1.1 million tonnes of carbon emissions each year.
Mohammed bin Rashid Al Maktoum Solar Park Phase V project manager Meng Chuanmin said: "We are so proud to see the solar park hit another historical milestone after Phase A was connected to the grid in 2021.
"Now, work on Phase C is well underway and is expected to complete in 2023.
"The construction process of the fifth phase of MBR Solar Park is marked by a series of challenges, culminating in the peak of the Covid-19 pandemic that severely disrupted global supply chains.
"The team overcame the difficulties and ensured the procurement and delivery of the raw materials for the project were timely implemented to avoid any delay to the overall progress."
The fifth phase of the park is owned by Acwa Power.
In 2020, ACWA Power selected Shanghai Electric as the project's engineering, procurement and construction (EPC) contractor.
The project comprised Phases A, B and C and has a total installed capacity of 1.05GW.
Shanghai Electric said that the project has created more than 4,000 direct and 10,000 indirect jobs.
The company has also been involved in the construction of the solar park's fourth phase, which includes a 700MW concentrated solar power (CSP) plant and a 250MW PV plant.
The CSP can store thermal energy during the daytime so it can be used for electricity generation at night, enabling a constant supply of energy.