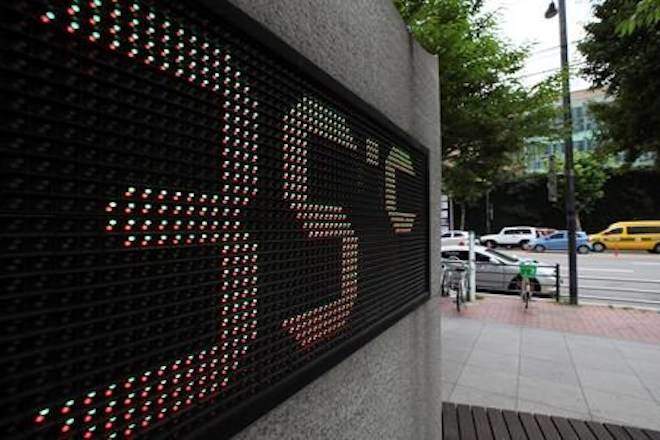 Power company Korea Hydro and Nuclear Power (KHNP) has announced its decision to restart two of its units, in an attempt to address growing electricity demands as the country's summer heatwave continues.
The Hanbit 3 and Hanul 2 units have been offline since May for maintenance work but will be brought back in the second and third weeks of August. Scheduled maintenance for Hanbit 1 and Hanul 1, expected for the 18 and 29 August, has also been postponed.  Work on Hanul 4 was completed last week, with full capacity anticipated to be reached today.
By bringing these five plants back online, KHNP reportedly hopes to provide an extra 5 GWh of electricity as the country struggles to meet rising energy demands brought on by climbing temperatures. The government has estimated that power demand will this week reach up to 88.3 GWh.
Minister of trade, industry and energy Paik Un-gyu made a state visit to a power grid in Tteukseom, Seoul earlier this week, at which he said: "As the heat wave has continued for several days, we expect electricity demand to surge to an all-time record."
He added that providing electricity is possible due to the government securing power supply 'as planned', as well as having emergency resources.
Currently, 24 power reactors are in operation in South Korea with a combined generating capacity of 22,505 MWe. Around a third of the country's electricity is accessed from these sites. Aside from two new reactors under construction, the government has said it will halt new nuclear programmes and will not extend the operation of existing facilities, with the aim of decreasing the number of reactors to 14 by 2038.
KHNP stated last month that unit 1 of its Wolsong nuclear power plant was to be retired, as its operating licence expires in 2022. The firm has also scrapped construction plans for four new reactors, as part of the government's wider efforts to cut down on the use of nuclear energy.
Two units had been planned at Cheonji in Yeongdeok County, North Gyeongsang province, with an additional two planned either at Cheonji or at Daejin in Samcheok, Gangwon province.