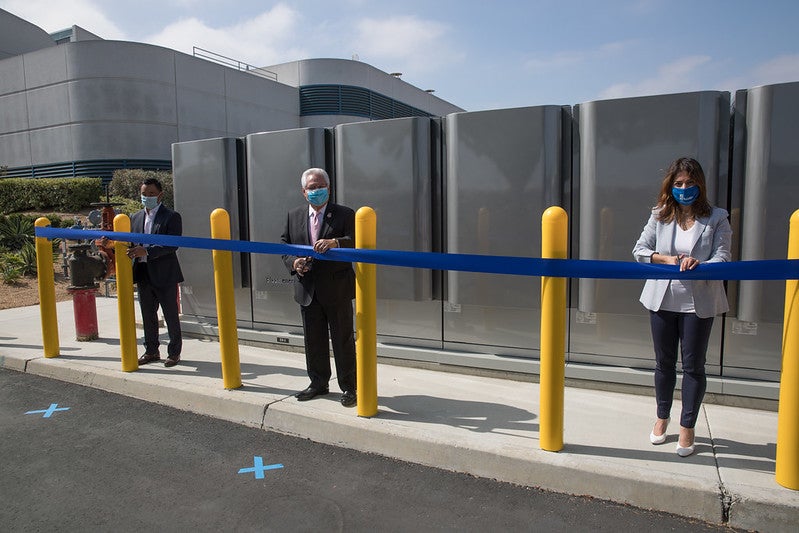 Southern California Gas (SoCalGas) has started powering two of its facilities with solid oxide fuel cells made by Bloom Energy. These use the company's natural gas to create power without combustion.
The fuel cells use a ceramic catalyst to produce electricity from natural gas and oxygen. The catalyst stimulates a form of electrolysis reaction between oxygen and gas reformed with steam. The process creates CO₂ and water, which is reused to generate steam.
SoCalGas will use the Bloom Energy Servers at its Monterey Park and Pico Rivera facilities, each generating 950kW around the clock. Both facilities have also set up microgrids to allow for power management.
The company estimates the cells will reduce its annual carbon emissions by 683 tons, and almost total elimination of particulate pollution. Bloom Energy says its fuel cells run with up to 60% efficiency.
Bloom Energy strategic development managing director Kris Kim said: "The SoCalGas pipeline system is integral to many Bloom Energy Servers installed in central and southern California, so we were eager to team up again to bring fuel cells to SoCalGas' own facilities."
SoCalGas currently uses solar power at six of its 113 facilities but decided on the fuel cells on this occasion because of the need for greater power resilience.
The cells were previously installed at an Indian biogas plant. There, the cells were fed by biomethane.