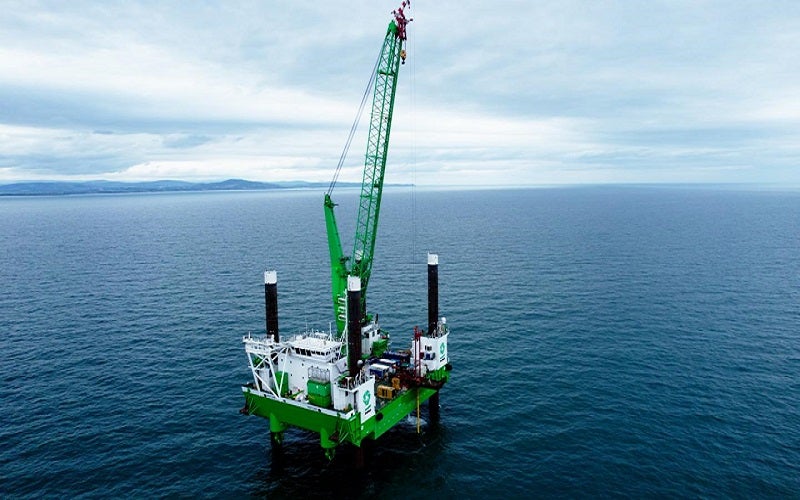 UK-based energy company SSE Renewables has announced it has completed offshore ground investigation works for Phase II of the Arklow Bank Wind Park.
A team from subsea services company Fugro completed the geotechnical works by boarding DEME's DP2 offshore installation vessel, Neptune.
Investigations were done at various locations across the 800MW project's development site, which is located around 6-13km from the coast of Ireland.
Fugro Site Investigations Service Line director Matthew Chappell said: "By working closely and collaboratively with SSE Renewables and DEME, who provided the Neptune liveaboard jack-up barge, we were able to deliver the perfect solution for the Arklow Bank Wind Park site investigation.
"Our experience in marine operations and geotechnical surveys allowed us to develop an innovative solution for the site conditions and is certainly something we're proud of.
"Our geodata will not only reduce project risk and uncertainties but will help inform future developmental phases of the project."
Located near Arklow, County Wicklow, Arklow Bank Wind Park Phase II is expected to generate 800MW of power.
Once operational, the wind facility will have the capacity to power 850,000 homes and displace around 830 billion kilograms of carbon emissions a year.
It is expected to require a €2.5bn ($2.49bn) total investment.
The Arklow Bank Wind Park is anticipated to generate its first power in 2028 and be completed by the following year.
Arklow Bank Wind Park Phase II project manager John O'Sullivan said: "The successful completion of this ground investigation campaign is another key milestone for the Arklow project.
"It has enabled us to gain a much clearer understanding of the seabed conditions within the lease area.
"This enhanced site characterisation greatly supports our ongoing design development works in the lead up to the first offshore energy auction."
Earlier this year, SSE Renewables obtained planning permission from the Irish planning board An Bord Pleanála for the Arklow Bank grid infrastructure.