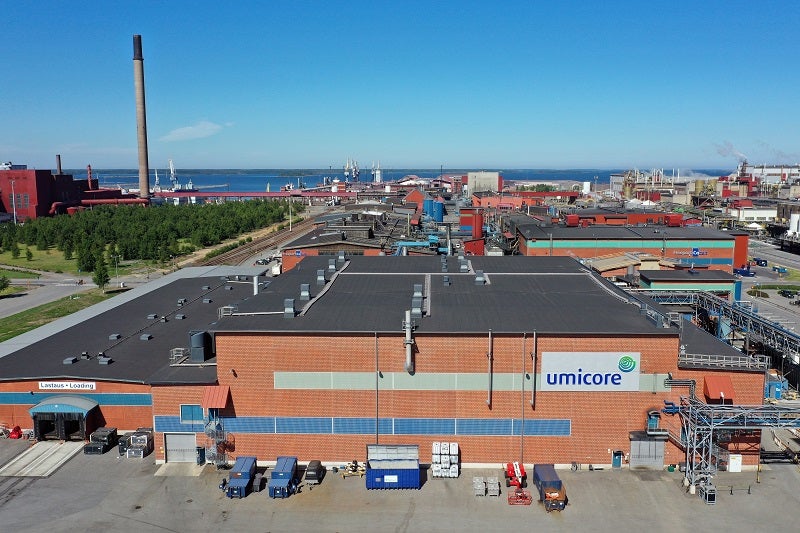 Norwegian state-owned energy company Statkraft has signed a power purchase agreement (PPA) with Umicore, a materials technology company based in Belgium.
The PPA will ensure the annual supply of 60GWh of clean energy from 2024 to 2033 to power Umicore's site in Kokkola, Finland.
The clean energy will be certified with guarantees of origin and delivered from the Nuolivaara wind farm in northern Finland.
Featuring 17 wind turbines, the 96.9MW onshore wind facility is expected to be commissioned next year.
Umicore CEO Mathias Miedreich said: "Clean energy agreements, like the one we signed with Statkraft, allow Europe's largest cobalt refinery and state-of-the-art cathode precursor facility to produce sustainably.
"Moreover, they reduce Umicore's Scope Two emissions as we use electricity as the main source of energy throughout our battery materials value chain, and they significantly contribute to securing our own energy supplies, at a cost competitive level, for the next decade."
Umicore's manufacturing facility in Kokkola produces precursor cathode active materials and refines cobalt used in rechargeable batteries for electric cars.
Under its 'Let's go for Zero' environmental, social and governance (ESG) strategy, Umicore has set a target to achieve net-zero greenhouse gas emissions by 2035.
The company initially aims to reduce its emissions by 20% by 2025 from their 2019 baseline.
Statkraft Markets executive vice-president Hallvard Granheim said: "We are proud to support Umicore in Finland with this PPA to reduce their carbon dioxide emissions and contribute to their sustainability goals.
"As the largest producer of renewable power in Europe, we in Statkraft aim to be a major partner to industry customers in the Nordic region and believe that our solutions should fit our customer's needs."
Last October, Statkraft purchased 39 onshore wind farms across Germany and four in France from Breeze Three Energy.