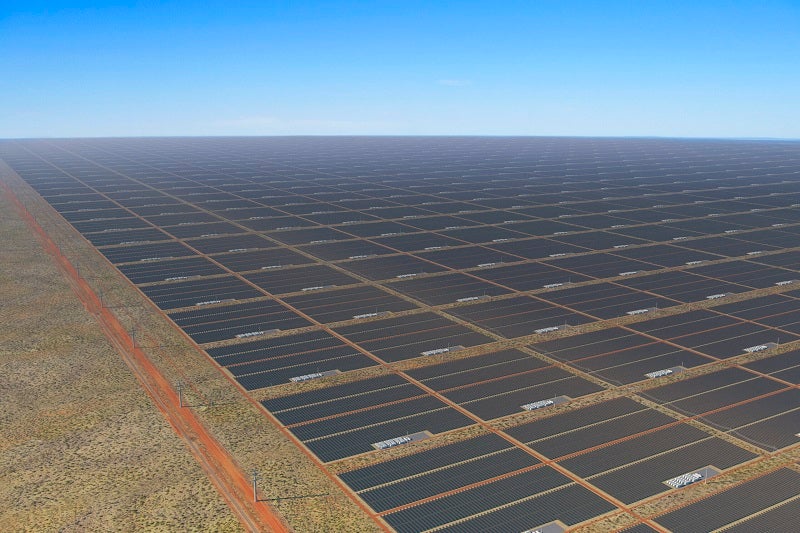 Singaporean solar energy firm Sun Cable has secured A$210m ($150.9m) in a Series B capital raise round to fund its Australia-Asia PowerLink (AAPowerLink) project.
The AAPowerLink project is being developed to export clean energy from Australia to Singapore.
The project will export clean energy from a 10GW solar farm and a 20-30GWh storage facility in Elliott to Darwin and Singapore.
It is located near Tennant Creek in Australia's Northern Territory and will require a total investment of A$20bn.
Grok Ventures led the funding round together with Squadron Energy, a wholly owned subsidiary of Australian investment company Tattarang.
Tattarang chairman Dr Andrew Forrest said: "Sun Cable's vision will transform Australia's capability to become a world-leading generator and exporter of renewable electricity and enable decarbonisation.
"I'm proud to be a cornerstone investor in Sun Cable, its team and its vision.
"This capital raise is a critical step in developing the Australia-Asia PowerLink and I applaud Sun Cable realising this mission."
In addition to supporting the AAPowerLink project, Sun Cable will use the proceeds from the funding round to develop its portfolio of power generation and transmission projects.
Sun Cable founder and CEO David Griffin said: "We have developed a world-leading capability in four short years.
"We are thrilled to have materially strengthened our resources with the support of all of our shareholders, who are such strong advocates for our mission.
"This capital raise will enable the delivery of renewable solar power from Australia to Singapore, advance our other multi-gigawatt scale projects, and support the progress of key facilitating assets.
"We are buoyed by the level of support from our investors and key stakeholders including governments, offtakers, suppliers and the communities in which we operate."
Last September, the Indonesian Government suggested a route for Sun Cable's AAPowerLink project.