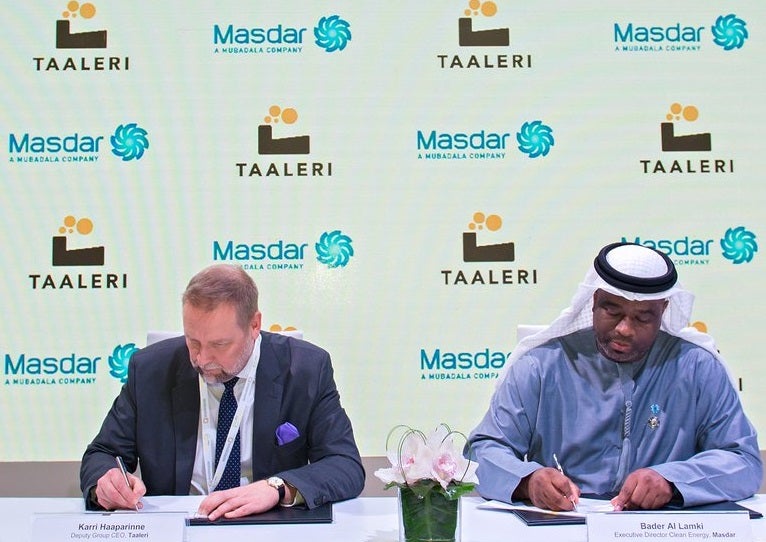 Taaleri Energia and Masdar have agreed to launch a joint venture to increase wind and solar energy development in Central and Eastern Europe.
Finnish wind and solar developer Taaleri and Abu Dhabi future energy company Masdar are looking to expand on their current projects in the Balkan region.
Taaleri deputy chief executive officer Karri Haaparinne and Masdar executive director of clean energy Bader Al Lamki signed the joint venture agreement at the World Future Energy Summit (WFES) in Abu Dhabi.
Al Lamki said: "What we've accomplished in partnership with Taaleri in Serbia and Jordan is a testament to the important role that strong partnerships play in unlocking access to renewable energy. We are proud to build on the experiences gained through our strong collaboration, to help countries in Central and Eastern Europe meet their renewable energy goals."
Taaleri managing director Kai Rintala added: "Working together with Masdar in this joint venture we will generate high-quality deal flow in Central and Eastern Europe, which will provide the funds that we manage opportunities to invest in the region in attractive projects with high-calibre investment, financing, equipment and construction partners and counterparties."
Both companies have investments in the region. Masdar acquired a 47% stake in the 72MW onshore wind farm at Krnovo, Montenegro in 2017. Taaleri and Masdar have also invested in a 158MW Čibuk 1 wind farm in Serbia.
Taaleri and Masdar have expressed interest in future projects in the region. This includes supplying the Polish onshore wind market with 3GW of new energy capacity expected to be added in the coming years, and Greece's plans for 2.3GW of new solar and wind energy capacity by 2020.