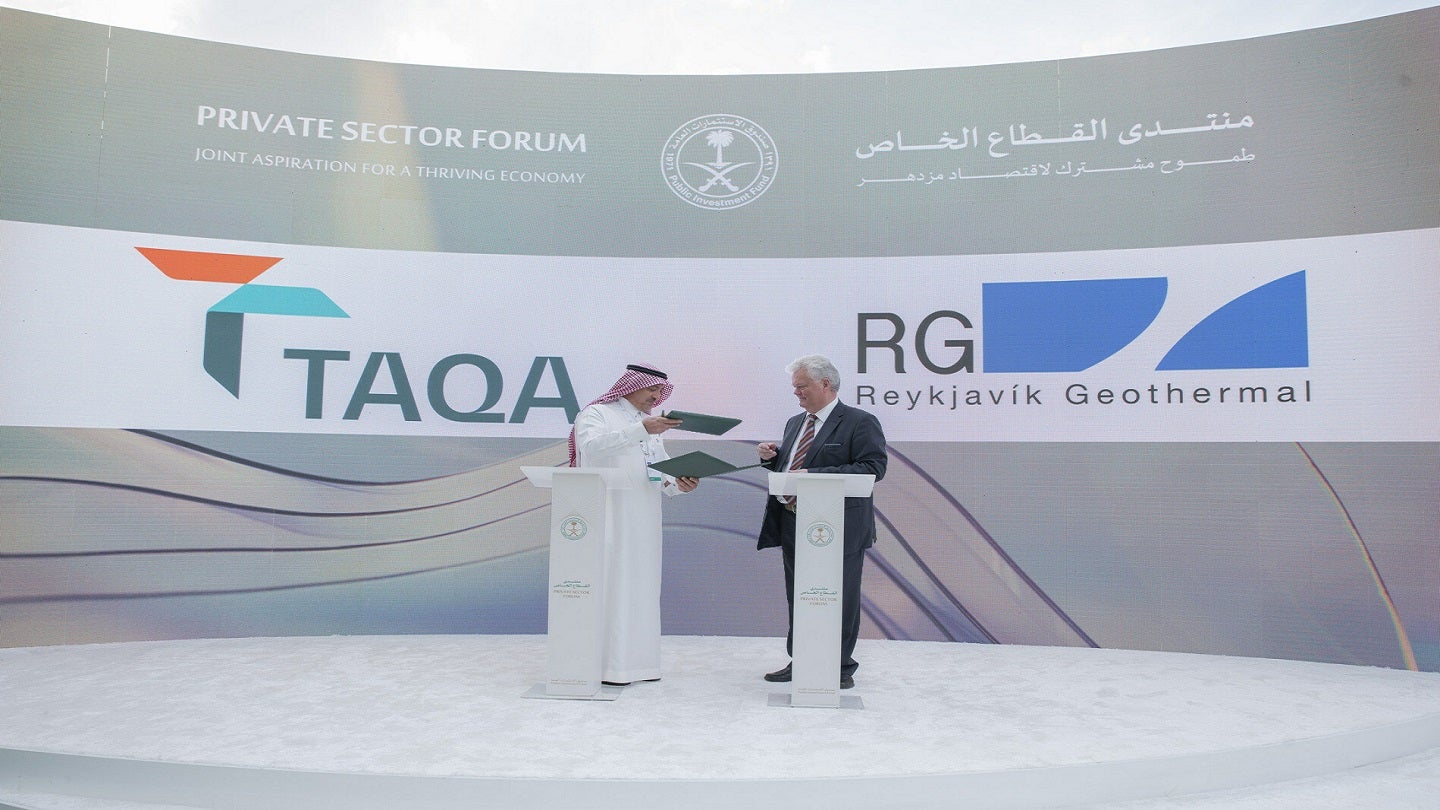 The Abu Dhabi National Energy Company (TAQA) has signed a joint venture (JV) agreement with Reykjavik Geothermal (RG).
The companies will create the TAQA Geothermal Energy JV in Riyadh, Saudi Arabia, with the aim to create 1GW of capacity.
The JV will look to explore and develop geothermal resources in Saudi Arabia and elsewhere in the Middle East and North Africa (MENA) regions.
It is intended to support Saudi and Middle East Green Initiatives' decarbonisation targets.
TAQA Group CEO Khalid Nouh said: "We started our journey of transitioning into a sustainable future in early 2021, when we created the TAQA Geothermal Center of Excellence (TG-CoE) in Turkey, with the objective of sharing knowledge and experience of Geothermal Development with other stakeholders in Saudi Arabia.
"Throughout the past two years, TG-CoE worked closely with universities, research institutes, K A-CARE and SGS under the directives of the Ministry of Energy.
"The outcome of these collaborative efforts is a promising potential of geothermal resources in Saudi Arabia, and time have come to take bold steps to further explore this resource and realise its full potential."
The JV is expected to support Saudi Arabia's measures to minimise carbon emissions and achieve its net-zero target.
It will also help the country diversify its energy mix and aligns with its Vision 2030, which aims to reduce its reliance on oil while improving its public sector.
RG board chairman Godmundur Thoroddsson said: "The RG team is a long-time believer in the geothermal potential of Saudi Arabia; we first started exploring the local resources in 2009.
"This clean, stable, and inexpensive baseload energy source has enormous potential.
"It goes beyond the 1GW+ of high-enthalpy power generation; our new joint venture aims to develop large-scale direct-use of geothermal cooling and desalination projects using Saudi Arabia's plentiful low-and medium enthalpy resources."