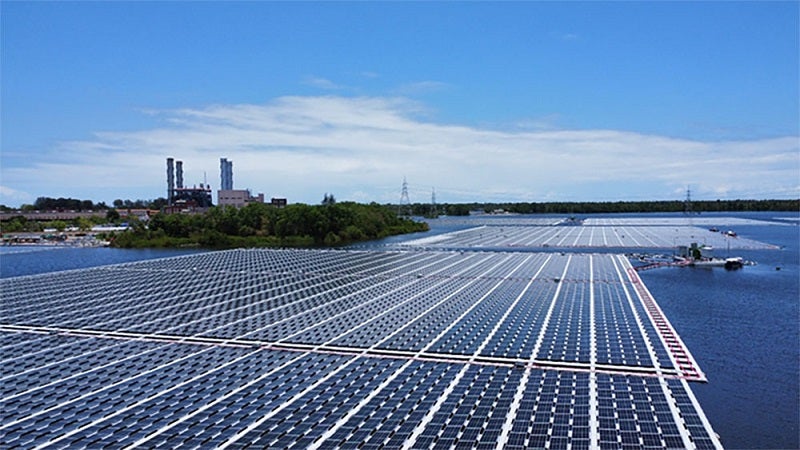 Tata Power Solar Systems, a subsidiary of Indian power company Tata Power, has commissioned India's largest floating solar facility in the state of Kerala.
With an installed capacity of 101.6MWp, the floating solar facility is spread across a 350-acre offshore area in Kayamkulam.
It is equipped with a 5MW floating inverter platform and is anchored to the waterbed by 134 cast pile foundations.
Tata Power managing director and CEO Dr Praveer Sinha said: "The commissioning of India's first and largest floating solar project is an innovative and incremental step toward meeting India's sustainable energy goals.
"We are incredibly proud of our team's unrelenting efforts in delivering this unique solar project that floats atop a large waterbody."
Tata Power said the facility is India's first floating solar photovoltaic asset to provide power under a power purchase agreement (PPA).
Under the terms of the PPA, the Kerela State Electricity Board (KSEB) will use the clean energy generated by the floating solar facility.
Tata Power Renewables president Ashish Khanna said: "We are thrilled to commission India's largest floating solar project of 101.6MWp in Kerala's backwaters.
"The installation exhibits our determination toward timely project delivery, smooth execution skills, and well-synchronised team effort.
"This project reinforces Tata Power Solar's commitment to leading India's transition towards a greener future and achieving our collective vision of realising 500GW of energy through solar power by 2030."
The offshore facility has increased Tata Power Solar's total utility-scale solar project portfolio to 9.7GWp.
Last month, Tata Power Solar received a solar project contract worth Rs17.3bn ($222m) from India's state-owned National Hydroelectric Power Corporation (NHPC).
The 300MW project will be developed in the state of Rajasthan as part of the Indian Renewable Energy Development Agency's (IREDA) Central Public Sector Undertaking (CPSU) scheme.