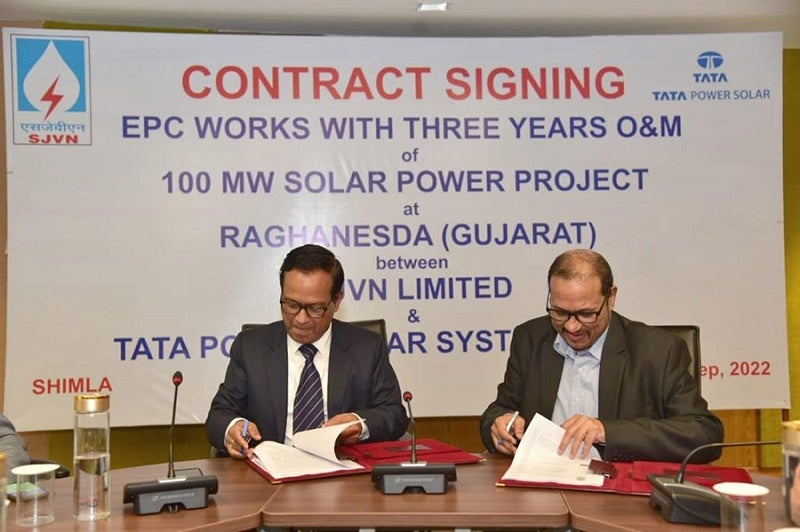 India's Tata Power Solar Systems Limited (TPSSL) has secured an Rs6.12bn ($76.7) letter of award (LoA) for setting up a 100MW ground-mounted solar project for SJVN Limited (SJVN) in the state of Gujarat.
TPSSL, a subsidiary of Tata Power Renewable Energy Limited (TPREL), will be setting up the solar facility at Raghanesda solar park plot C in Gujarat.
The bids for the project were invited earlier this year.
TPSSL secured the LoA via tariff-based competitive bidding.
The 100MW solar project will be commissioned within 11 months from the date of receiving a letter of award.
Tata Power Renewable Energy Limited is a subsidiary of Tata Power.
TPREL CEO Ashish Khanna said: "We are glad to be associated with SJVN for setting up this 100MW landmark solar project in the ground-mounted segment.
"The project win further solidifies our expertise in developing and deploying large-scale renewable projects for the public and corporate sector clients around the country."
SJVN is an Indian state-owned energy company, which focuses on hydro, thermal, solar, and wind as well as in power transmission and power trading businesses.
It is a joint venture between the Government of India and The State Government of Himachal Pradesh.
TPSSL has expertise in delivering customised strategic renewable projects and commissioned numerous large-scale solar ground-mounted projects in the country.
With this latest LoA, TPSSL's total portfolio will reach 9.9GWp mark.
In May this year, SJVN reached an agreement with Tata Power Solar Systems to develop a 1GW solar power project in Bikaner, Rajasthan.
According to SJVN chairman and managing director Nand Lal Sharma, it is the largest solar contract awarded in India to date.