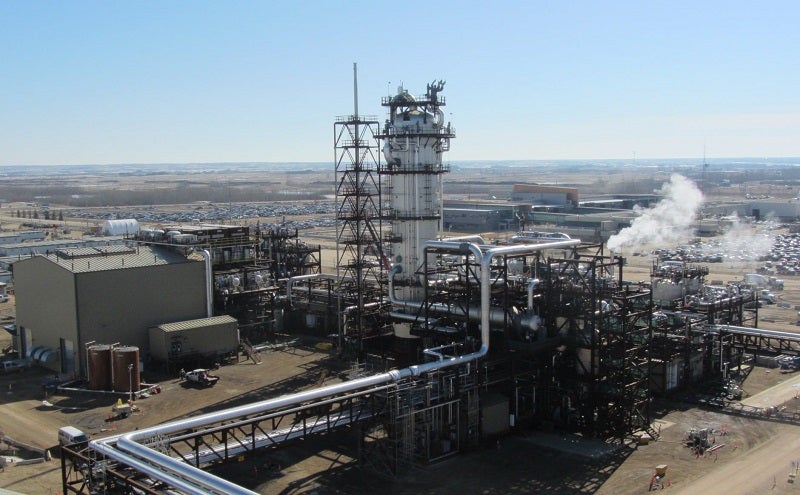 The UK Government has awarded £26m to nine companies to advance carbon capture, utilisation and storage (CCUS) technology in support of its ambition of being a world leader in the field.
The project will be officially announced today by energy and clean growth minister Chris Skidmore MP at the Tata Chemicals Europe (TCE) plant in Winnington, Cheshire, where the UK's largest-ever CCUS facility will be built with £4.2m from the fund.
Tata says the project will remove 40,000t of CO2 from the atmosphere each year when it becomes operational in 2021, equivalent to 22,000 cars being taken off the road. This is 100 times more CO2 than the country's current largest plant.
Skidmore tweeted: "On the day that I signed net-zero by 2050 into law, looking forward to travelling up to visit the carbon capture facility to formally announce our latest support for CCUS this afternoon, our investment in meeting our new commitment begins today."
TCE managing director Martin Ashcroft added: "The CCU demonstration plant will enable us to reduce our carbon emissions, whilst securing supplies of a critical raw material, helping to grow the export of our products across the world.
"We hope that this project will demonstrate the viability of CCU and pave the way for further applications of the technology to support the decarbonisation of industrial activity. This project is a great example of business and government working together to rise to the challenge of decarbonising industrial production."
Tata also tweeted: "Reducing carbon dioxide emissions and providing a crucial raw material used in our high-grade sodium bicarbonate."
Today, we've unveiled plans to build the UK's first industrial-scale Carbon Capture & Utilisation Plant. Reducing carbon dioxide emissions and providing a crucial raw material used in our high-grade sodium bicarbonate. Read more: https://t.co/U1KqJdfGHP @CSkidmoreUK @beisgovuk pic.twitter.com/Lhr9noEkCa

— TataChemicalsEurope (@TataChemicalsE) June 27, 2019
More projects win funding
Other groups that that will receive funding include the Drax power station in Yorkshire, which will receive £500,000 towards a Fuel Cell Biogenic Carbon Capture Demonstration project and Origen Power, who receive £249,000 for an Oxy-Fuelled Flash Calciner Project.
Drax will also work with C-Capture, who also received nearly £5m for CCUS innovation. Using Drax's Bio-energy with carbon capture and storage (BECCS) technology, the two will focus on making Drax a negative emissions plant by the 2020s.
C-Capture tweeted: "Great to be part of net zero team with Drax to scale up our technology for BECCS towards negative CO2 emissions."
Great to be part of #netzero team with @Draxnews to scale up our technology for #BECCS towards negative CO2 emissions https://t.co/hk5PKazJan

— C-Capture Ltd (@C_CaptureCO2) June 27, 2019