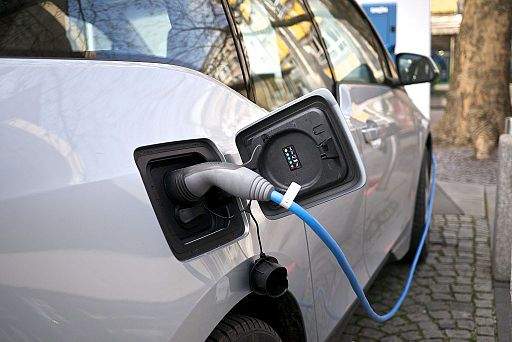 The UK Government has announced a new series of climate proposals under its 'Road to Zero' strategy, intended to assist the phasing out of high-polluting diesel and petrol vehicles and boost the uptake of low-emission alternatives.
The new measures aim to modify existing infrastructure to better accommodate and support electric vehicle (EV) use and help the UK in its ambition for at least 50% of new cars and up to 40% of new vans to be 'ultra-low emission' by 2030.
Transport Secretary Chris Grayling outlined the strategy today, with measures primarily looking at increasing the number of on- and off-street EV charging points. Further updates will follow in the coming weeks.
Measures include a push to install charge points in newly built homes in England, as well as on all new street lighting columns in areas that currently have on-street parking. In addition, the grant level available through the Workplace Charging Scheme will be increased to 75% of the purchase and cost of a charge point.
The strategy will see the launch of a £100m Charging Infrastructure Investment, with the purpose of providing funds to new and existing companies wanting to install charge points, and the establishment of a £40m programme for the development and trialling of new, cheaper wireless and on-street charging technologies.
The government will invest a further £4.5m in the On-street Residential Chargepoint Scheme until 2020, offering funding to local authorities.
Grayling described the measures as working to 'pave the way for the biggest overhaul in road transport technology since the development of the Benz Patent Motorcar over 130 years ago'. He added that he wants the UK to be a forerunner in EV development, becoming 'the best country in the world in which to develop and manufacture zero emission vehicles'.
Such a move offers an economic as well as an environmental benefit, with Grayling saying the UK has a chance to gain dominance in a market with an estimated value of £7.6tn by 2050.
The government has said it will assess the success of EV uptake in 2025 and take a view on whether additional measures need to be introduced to accelerate progress.
Some, such as CEO of Pivot Power Matt Allen, have praised the move. Allen's company is currently establishing an EV charging network across the UK, and he says the transition to electrified transport "is an exciting infrastructure challenge that needs to be solved sooner rather than later and we applaud steps from all corners of industry to make this happen".
There are, however, some who have criticised the government's actions for not being ambitious enough, with Greenpeace UK clean air campaigner Paul Morozzo telling The Independent that ministers 'need to shift up a gear or this Road to Zero will start looking like a road to nowhere'.
The country's target of ending the sale of petrol and diesel cars by 2040 lags behind countries such as Norway and Scotland, who have committed to the same aim by 2030 and 2032 respectively, causing industry members, MPs, and business leaders to voice the belief that a faster transition is needed.